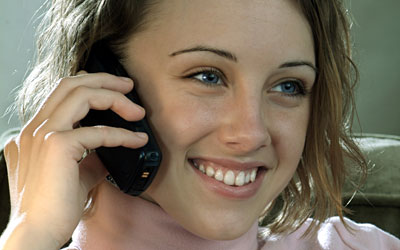 At Computex Taipai 2003, MiTAC's focus will be on the wireless networking capabilities built into its latest products, as well as its exciting new portable solutions ranging from smartphones and Pocket PCs to a diverse array of notebooks.
One of the biggest draws is sure to be MiTAC's new smartphones and Pocket PCs. Marketed under the brand name Mio, whose popularity has skyrocketed, making it the No. 3 Pocket PC brand in Asia-these devices are perfect companions for digital lifestyle enthusiasts, combining wireless connectivity, a design philosophy that puts equal emphasis on creating pleasure and enhancing productivity, and stylish looks. The Mio 8390 smartphone takes mobile telephony to a new dimension, with not only advanced cell phone functions, but also a high-resolution digital camera and photo album with editing capabilities, online gaming, and SD slot for unlimited expansion. The Pocket PC side of the Mio brand will be showcased through models such as the new Mio 558, the world's first Pocket PC to provide Bluetooth plus WLAN dual wireless connectivity.
MiTAC is also innovating in the desktop PC space, creating next-generation devices like the E8181D AVPC, also set to make an appearance at the MiTAC booth. Combining an exquisitely designed all-in-one LCD PC with the best of mobile computing technologies, such as an integrated PC Card slot, the E8181D AVPC also brings together consumer-oriented PC capabilities with support for a full range of traditional home entertainment formats. The exclusive software add-ons and integrated design of the E8181D AVPC gives users easy access to an amazing range of entertainment options, including cable television, FM radio, DVD movies, CD and MP3 music, and much more. Ideal as a digital hub for connecting devices such as digital camcorders for home video editing and other applications, the E8181D utilizes a wireless keyboard and mouse, while also providing a slot for adding a WLAN card.
Notebook computers will be yet another highlight of the MiTAC booth. Among the full lineup of portable solutions there, visitors will surely find their attention drawn to MiTAC's latest, the MiNote 8060B. MiTAC's all-stops-out portable solution, the MiNote 8060B provides a huge 15.2" LCD screen with extra-wide 3:2 aspect ratio and dedicated audio CD player controls in a svelte magnesium alloy-encased form. For those seeking a portable computer for specialized applications, the ruggedized notebooks MiTAC will also have on show are a must-see. Among these is the A770, a full-functioned notebook designed to operate under the most adverse environmental conditions. In addition to its full array of ruggedization features such as waterproof keyboard, dust-proof casing, and shock-damped hard disk drive enclosure, the A770 provides a comprehensive range of options-including sunlight-readable LCD, shock mounts, and WLAN connectivity-ensuring that it can meet the requirements of virtually any application or user environment.
MiTAC President Francis Tsai commented, "This has to be the most impressive array of products we have ever had at Computex. The solutions we'll have on show demonstrate the comprehensiveness of our product offerings and integration of the advanced technologies that are most in demand-wireless connectivity foremost among them. The MiTAC booth will also be a showcase for the sheer depth of innovation we've achieved. Not only should distributors and white-label vendors will be interested in MiTAC's current lineup, but potential OEM and ODM customers will be impressed by our manufacturing quality and design capabilities."
MiTAC is Taiwan's ninth largest computer systems vendor.