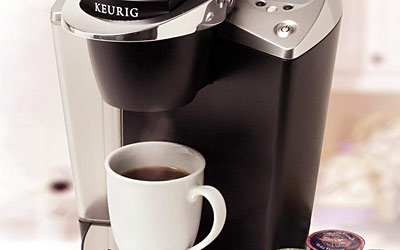 The Keurig Gourmet Single Cup Home Brewing System is designed for gourmet coffee and tea lovers who want to enjoy the speed and convenience of single cup brewing at home.
Along with the Gourmet Single Cup Home Brewing System, Keurig offers a menu of thirteen gourmet varieties of coffees and teas from seven different premium coffee and tea brands including: Green Mountain Coffee Roasters, Diedrich, Gloria Jean's, Timothy's World Coffees, Van Houtte, Celestial Seasonings, and Bigelow.
Keurig will introduce consumers to its new Gourmet Single Cup Home Brewing System with in-store demonstrations taking place at major retailers throughout the holiday season and continuing into 2005. The extensive demonstration program will showcase the premium quality and convenience of Keurig's brewing system and Keurig's offering of branded gourmet coffees and teas.
Joe Laneve of Bloomingdale said that the store is "proud to be among the first retailers to offer the Keurig Gourmet Single Cup Brewer. We are seeing significant growth in the single cup segment and are excited to have a premium offering that speaks to our discerning customer base."
Nick Lazaris of Keurig stated, "Tasting is believing. Gourmet coffee and tea lovers have made the Keurig system the leader in single cup brewing in offices across North America. These same gourmet drinkers have asked us to introduce a home system along with our K-Cups that is more easily available to them where they shop. The Keurig Gourmet Single Cup Home Brewer will satisfy that need. Just as in the office, we know that once people taste Keurig brewed coffee and tea, they will discover that they can have great taste along with the speed and convenience of single cup brewing."
Keurig's retail introduction follows the successful September 2003 launch of the Model B100 Keurig Brewing System, which was designed and UL certified for both home and office use.
The revolutionary third generation Model B50 Keurig Gourmet Single Cup Home Brewing System combines sophisticated technology with a choice of more than 70 premium coffees and teas from seven of the finest gourmet brands in North America. Keurig's breadth of selection of gourmet coffees and teas is unmatched by other single cup systems.
The Keurig Gourmet Single Cup Home Brewing System uses microprocessor technology to precisely control every step of the brewing process to deliver a consistent taste profile with every brew. The programmable LCD message center allows the user to set the brewer to always be immediately available to brew, or to program on and off times, or to set an auto off time. The Keurig system also provides users with two brewed hot beverage size options, 7.25 ounces and 5.25 ounces. For those who wish to brew more than one cup, the Keurig system can brew multiple cups in less than 60 seconds per cup.
Keurig's patented K-Cups contain the ideal grind and amount of coffee or tea specific to each variety. An airtight lid and cup lock in freshness and flavor, while a filter inside ensures that the water will extract the optimal coffee or tea flavor. Because brewing takes place inside this mini-brewer, there is no residue left in the brewer to taint the next brew. A burst of air at the end of the brew cycle forces the last drops out of the K-Cup so there is no dripping or mess when it is removed. The brewed K-Cup is cool to the touch for easy disposal after use.
Keurig is a single cup brewing pioneer in North America and first introduced its gourmet single cup brewing systems to offices in 1998 and to home users in 2002.