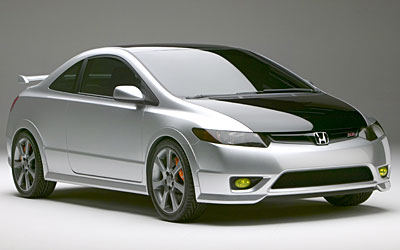 Honda will be the Vehicle Manufacturer of the Show and the all-new 2006 Civic will be the Vehicle of the Show at the 2005 SEMA trade show in Las Vegas. The high-performance 2006 Civic Si Coupe will make its world debut at SEMA.
"We're thrilled at the opportunity to play a larger part in the 2005 SEMA show as Vehicle Manufacturer of the Show with the 2006 Civic as Vehicle of the Show," said Honda's John Mendel. "The performance aftermarket has played a big part in the image of Honda with young buyers and performance enthusiasts. SEMA is the perfect venue to highlight our company's commitment to the market and the exciting new products we're building, including our all-new Civic and the new Ridgeline truck."
Honda has long been a leader in the compact performance market. According to the latest figures from SEMA, Honda and Acura products account for almost 40 percent of the total vehicles in this segment.
In 2001, Honda debuted the all-new 2002 Civic Si at SEMA. The company has also selected SEMA as the venue to debut new Honda Factory Performance accessory kits for models like the Civic Coupe, the Accord Coupe, and the Acura RSX.
The 2005 SEMA show will feature a wide assortment of Honda and Acura models modified by some of the import performance market's leading tuner companies. Models on display will include the all-new 2006 Ridgeline, Honda's first entry in the pickup truck segment, the S2000 sports car, and the Element SUV. Acura division is expected to feature modified versions of the RSX, the TSX sports sedan, and the RL luxury performance sedan.