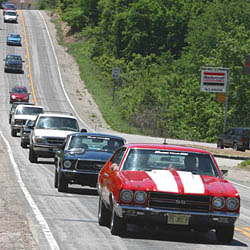 This year's 9th Annual Hot Rod Magazine Power Tour, presented by Chevrolet and sponsored by Flowmaster, brings its visual spectacle of the nation's most unique classic cars and late-model performance vehicles to the heart of the South for an 8-day, 7-city "road trip," May 30-June 6. En route from Nashville, TN to Fort Worth, TX participants will motor nearly 1,500 miles, experiencing the joys of the open road, camaraderie and organized stops in each city. More than 200,000 drivers and fans will get a first look at Chevy's highly anticipated and yet-to-be-released SSR, GM project vehicles and thousands of colorful, highly personalized cars and trucks. Approximately 14,000 vehicles are expected to participate in all or a portion of the Tour. Those who travel the entire route are dubbed "long haulers" and receive special recognition.
"What better time to celebrate 'Americana,' which is really at the heart of the Hot Rod Magazine Power Tour, Chevrolet and Hot Rod magazine itself which gave voice to the American pastime of vehicle performance enhancement and modification more than 50 years ago," says Hot Rod publisher Ira Gabriel. "The Hot Rod Power Tour celebrates America's love affair with the automobile -- the passion of enthusiasts to truly create their own vision."
Each year, the Hot Rod Magazine Power Tour varies its route, exploring different cities and destinations throughout the country. This year marks the first time the event will travel to the heart of the South and visit some of the region's most exciting and historic locales. The 2003 Tour begins in Nashville, TN on May 30 and travels through Memphis, Jackson, New Orleans, Lake Charles and Shreveport before arriving in Fort Worth on June 5 for 2 days of festivities.
Each day's journey, an average 250-mile drive, begins at daily "driver meetings" held at a local Wal-Mart where participants confer on the route then depart together to the next destination. In addition to this traveling extravaganza as hundreds of colorful, elaborate vehicles cruise en mass, lunch stops and points of interest are part of the day's agenda.
The excitement isn't just limited to the road. The Power Tour pulls into a designated location at each city for an afternoon of activities for the whole family. GM special project vehicles and hundreds of participant vehicles of every make and shape imaginable as well as manufacturer displays, product giveaways, Dyno Challenge, and more are free to the public. Evenings also feature special "Cruise Night" activities and dinner, hosted by a participating sponsor.
A classic, highly modified 1967 Chevelle from Chevrolet as well as a crate engine, courtesy of GM Performance Parts will be awarded to lucky Power Tour participants. Entries are available online at www.hotrod.com starting May 30 or on the Tour.
Chevrolet returns as the presenting sponsor of the 9th Annual Hot Rod Power Tour bringing along an exciting mix of vehicles, some of which the public will see for the first time. In addition to the Chevy SSR, a nostalgic yet sleek roadster/pickup hybrid, other performance-enhanced cars and trucks include the Chevy SS Impala, SS Tahoe and Trailblazer, Supercharged Monte Carlo and Pontiac GXP show vehicles.
The 2003 Hot Rod Magazine Power Tour is presented by Chevrolet and co-sponsored by Flowmaster. Cruise night sponsors include INA Insurance, Superchips, Edelbrock and Painless Performance. The Tour is also supported by a range of other prominent automotive aftermarket companies.
Pre-registration for the Hot Rod Magazine Power Tour is $55 prior to May 23. Registration includes a vehicle, driver and one passenger, plus all Tour stops and activities. For further information and registration, call 1-877-413-6515 or visit www.hotrod.com or www.familyevents.com.
Published by PRIMEDIA, Hot Rod Magazine is the world's largest and most influential automotive performance publication reaching more than 7.2 million people per month. Hot Rod is a recognized brand that spawned an industry more than 50 years ago and now includes Hot Rod TV, available nationally to more than 54 million households on Speed Channel, www.hotrod.com and the annual Hot Rod Power Tour.
One of the world's most innovative media companies, PRIMEDIA is leading the industry with its combination of traditional and new media properties. The Company capitalizes on its focused content across print, television, the Internet and live events to offer highly effective integrated advertising and marketing solutions in some of the most sought after advertising demographic sectors including teens, automotive, outdoor, luxury, real estate and business-to-business segments. PRIMEDIA is the #1 special interest magazine publisher in the U.S., producing more advertising and editorial pages through its more than 250 titles than any other media company.