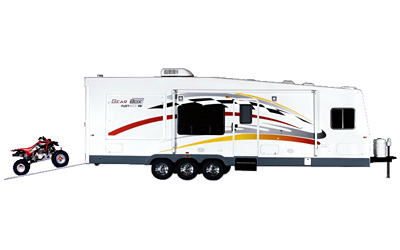 Following the recent launch of its new Gear Box LSV brand of lifestyle support vehicles, Fleetwood RV, the nation's leader in recreational vehicle sales, has moved swiftly to create partnerships with some of the key conduits to potential customers in the motocross and supercross segments as well as dirt bike and ATV enthusiasts.
To date, Fleetwood has joined forces with enthusiast media outlets including Dirt Rider Magazine and Outdoor Life Network's (OLN) Dirt Rider Adventure program as well as performance accessory manufacturers Spy Optics and M2R Helmets. Fleetwood arranged one-year loans of Gear Box LSV units to each of these companies to use in their own event hospitality, rider support and product marketing efforts at key motocross and supercross competitions and industry events.
M2R Helmets and Spy Optics are both using the Gear Box LSV for rider support and hospitality at all 2004 AMA Supercross Series events and 2004 AMA/Chevy Trucks USMX Series events; a total of 27 events from January to August.
Dirt Rider Magazine and OLN's Dirt Rider Adventure used the Gear Box at their 24 Hour test event in Gorman, California this past January and will use it as a support vehicle at a variety of other events this year. "Fleetwood has really raised the bar in the toy hauler market with the Gear Box," said Ken Faught, editor in chief, Dirt Rider Magazine and co-host for Dirt Rider Adventure. "They have done their homework and given the customer a ton of great features in an awesome-looking unit."
"Our Gear Box LSV brand was created for a very specific audience of outdoor enthusiasts, which includes moto and supercross riders and teams as well as dirt bike and ATV enthusiasts," said Bob Rogers, Channel Marketing Manager for Fleetwood RV. "A key component of marketing our Gear Box is to give potential customers a chance to experience our product first hand in an outdoor sports environment. Appearing at these key events with such highly regarded partners provides us with invaluable product exposure where our target consumers work and play. Furthermore, having them use our product in real-life situations is the strongest possible endorsement of Gear Box's value to this target audience."
"We're very pleased to partner with a market leader like Fleetwood RV," said Randy Smith, Vice President/Racing, M2R Helmets. "The Gear Box LSV is an excellent product that really fits the needs of many of our customers. It's a natural fit for us to be able to put it in front of this audience. Being able to utilize Gear Box for our own marketing needs really has given our sales force an effective platform for promoting our products."
Fleetwood's recreational vehicle line includes motor homes, travel trailers, fifth wheels, truck campers and folding trailers.