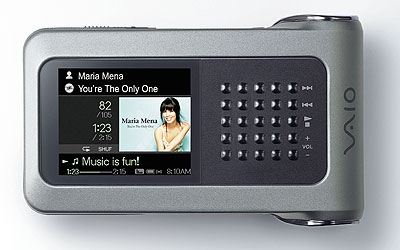 Sony's Vaio Pocket hard drive digital music player features a 2.2-inch color LCD display so you can display full-color photos and album covers while playing music.
The Vaio Pocket music player is the latest offering in Sony's industry-leading line of nearly two dozen portable digital entertainment products.
The Vaio Pocket has an array of advanced features for computer and digital content fans. Its 40 gigabyte hard drive stores up to 26,000 songs. With its QVGA color LCD you can display a music-enhanced slideshow of personal photos. Plus, transferring music and pictures to Vaio Pocket is accomplished via a USB 2.0 port.
USB streaming makes offloading photos from a Sony Cybershot digital still camera to the player easy. The Vaio Pocket serves double-duty as a storage device so you can take more pictures even when you're far from your PC. A USB 2.0 cradle is also supplied for easy PC connection, high speed transfer of files and convenient and rapid charging.
Easily gripped and operated with one hand, the Vaio Pocket player also sports a unique user interface named Grid Sense. The Grid Sense touchpad is a grid of raised dots which work together like a PC touchpad. It allows for smooth and precise song selection and navigation. You can also use the included three-line backlit LCD remote control to select songs when the player is on a belt loop or in a bag.
The device's black matte finish adds to its tactile feel, but is durable enough to resist scratches and fingerprints.
"Now this is a tech-lover's digital dream device," said Mike Abary, Sony Electronics' general manager of Vaio product marketing. "We made the Vaio Pocket for PC enthusiasts who want lots of storage for both music and pictures in an attention-grabbing, pocket-sized device."
With a single charge of the built-in rechargeable lithium-ion battery, you can set all of your activities to music with up to 20 hours of continuous playback.
The device allows you to load up your favorite CDs or download music from the new Connect online music store, which currently features more than 600,000 music tracks from major labels and independent artists.
The Connect service works not only with the Vaio Pocket player, but with a wide range of digital music devices that are priced to suit any lifestyle. An upgraded version of the service will debut this fall and will include such new features as Internet radio, entertainment news and music reviews.
The Vaio Pocket uses Sonic Stage music management software to help import, organize and transfer albums and playlists. It plays back ATRAC3 and ATRAC3plus files and supports the most popular Internet audio formats, including MP3, WAV and WMA files.
It will be available in September with SonicStage software, ear bud headphones, a USB cradle, a USB cable, and AC power adaptor, and an LCD remote control for a price of approximately $500.