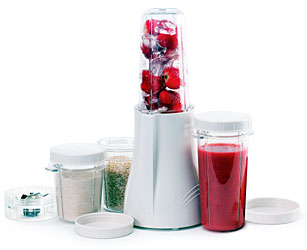 The Personal Blender from Tribest is an all-in-one, durable, and ultra-powerful blender that allows you to make blended smoothies, protein drinks and other scrumptious delights without the hassle of having to stop and clean a bulky blending container every time you switch recipes. Just add your ingredients in one of the Personal Blender's dishwasher-safe, single-serving cups, screw on the stainless steel blade attachment, turn it over, and set it into the base. To blend, gently press down on the top of the cup for a quick blend or press and twist to blend continuously. Simply remove the single-serving cup from the base, turn it over, unscrew the blade attachment, and serve. The whole blending process takes less than a minute.
"The best part is that you drink right out of the single-serving cup, so there's no mess to clean up and no cumbersome pitcher to wash," said Tribest President Jae Choi. "What's more, the Personal Blender comes with two single-serving cups, so you can enjoy a nutritious and delicious smoothie or protein drink just the way you want it, while making a different recipe for a friend or family member in their own cup without the extra cleaning step in between. Once you've finished your blended drink, all you have to clean is the blending cup and the blade attachment." For added convenience, each cup comes with its own lid for easy storage or for on-the-go transporting.
The Personal Blender does everything a bigger blender can do, only faster and without the added mess and cleanup. In addition to blending just about any variety of fruit or vegetable, the high-powered, 200-watt motor easily blends ice and frozen fruits. It's also perfect for making sauces, salsa, sorbets, soups, and baby food. And with the stainless steel grinding blade that comes with the PB-200 model, grinding dry ingredients such as coffee beans, nuts, grains, herbs, and even feisty flax seeds is a snap.
Designed for maximum convenience, The Personal Blender's less-than-5"-diameter base offers a significant space-saving advantage. And its lightweight, elegant profile lets you move it around the kitchen with ease, or grip and lift it like a martini shaker for extra ingredient agitation. And unlike the big, heavy containers of ordinary blenders, the Personal Blender's single-serving cups fit easily and conveniently in the refrigerator and are made of virtually unbreakable, stain- and odor-resistant polycarbonate, the same material used for making bullet-proof windows and barriers.
Tribest's commitment to safety is clearly illustrated by the Personal Blender's serving cup that, unlike traditional blenders, completely encloses the blending and grinding blades. In addition, the blades will not spin unless the cup is locked into its base, providing added protection.
Two Personal Blenders are available: the Blender Package (PB-100), or the Blender & Grinder Duo Combination (PB-200). Although both models have a powerful 200-watt motor, the PB-100 retails for $59.99 and comes with two 16 ounce, single-serving cups with lids and blender blade attachment, while the PB-200 retails for $79.99 and includes two 16 ounce and two 8 ounce single-serving cups, a blending blade attachment, and an additional 2-pronged grinding blade for grinding coffee beans, nuts, and seeds. Both models come with an easy-to-read instruction manual and more than 30 recipe suggestions. For extra on-the-go convenience, commuter sipping lids and a handsome carrying protective case that can hold the entire Personal Blender Set are also available.