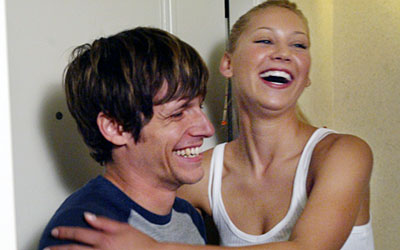 Gillette today announced the winner of its nationwide "Search for the Completely Irresistible Face." Matthew, a 31-year-old computer technician from Richmond, Virginia, received a surprise visit from tennis superstar Anna Kournikova, who declared his face the most completely irresistible from more than 1,200 entrants across the country.
Kournikova presented the winner with a complete electronics prize package, including an HDTV plasma display, surround-sound system, integrated DVD recorder and digital video camera. In addition, he will fly to a photo shoot later this year for the chance to appear in an upcoming Gillette Complete Skincare television commercial.
The Company created the contest to promote Gillette Complete Skincare, a new line of products designed specifically for men. The nationwide search began on May 5, 2004, with an open casting call hosted by Kournikova in New York's Times Square.
"It was a thrill to kick off the search in New York and to surprise the winner," said Kournikova. "He is truly irresistible-looking and it was fun to tell him so." He was chosen by Gillette's panel of judges based on two criteria - the overall healthy appearance of his skin and his overall appeal.
"Opening the door to see Anna was unbelievable enough . . . and then, I found out that I won, which made the whole experience even more incredible. This has been amazing."
Ten runners-up each will receive a Gillette Complete Skincare gift package and 500 dollars in cash.
Gillette Complete Skincare delivers five signs of noticeably healthy-looking skin in just 14 days. The line includes two cleansers, two shave gels, an after-shave soother and a moisturizer with SPF 15 - the only men's moisturizer recommended by The Skin Cancer Foundation. Gillette Complete Skincare products are available in food, drug and mass merchandise stores.
Gillette produces blades, razors, shaving preparations, alkaline batteries, and manual and power toothbrushes.