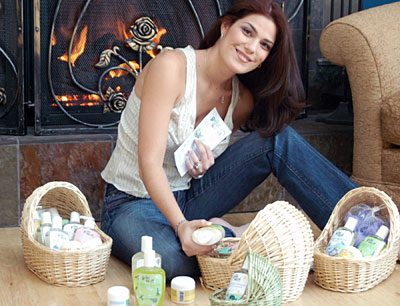 Jessica Wolfe is the original ZenMomma. Speaking to a new generation of healthy mothers, ZenMomma confides, "My beautiful baby boy was allergic to everything from dairy to the adhesive on a bandage and all the lotion and body wash in the middle." Inspired by love for her son Lawson, nicknamed Baby Cakes, a new line of natural products was born.
Baby Cakes by ZenMomma is a line of bath and body products tailor made with natural ingredients to gently nurture your baby as you do, with love and care. Comprised of essential oils, herbal extracts and key vitamins, these shampoos, lotions and creams leave a shine as lovely as your baby's glow. Whether it's for bathing, healing or just a lot of fun, these products cultivate an air of delight for both Mom and Tot.
"The baby beauty salon is open and the little one is in charge," says Wolfe. "Baby Cakes Shampoo has a fragrance that kids love and will gently clean their hair and scalp. After bathing, use Baby Cakes Lotion to moisturize and soothe sensitive skin. For the ultimate infant diva experience use Baby's Bath and Massage Oil to relax and invigorate your baby."
For problem scalp, try Baby Cakes Therapeutic Shampoo. Natural botanical extracts relieve dryness, flaking, and itching while leaving hair soft, shiny and manageable. Baby Cakes Bee Propolis is an effective aid against bacterial infections. As far as healing creams are concerned, last but not least is Baby Cakes Rear Repair and Over There. Especially effective for diaper rash, eczema, rashes and hives, Natural Healing Cream for Infants and Children calms irritated skin and helps speed healing.