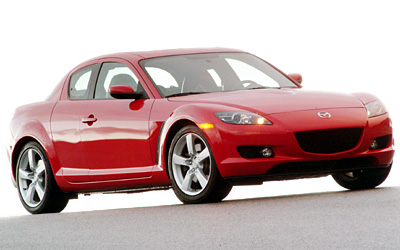 Mazda debuted an all-new, rotary-powered RX8 sports car in January at the North American International Auto Show in Detroit. With an athletically sculpted exterior and one-of-a-kind rotary engine, the Mazda RX8 is priced from $25,180 with a 197-horsepower engine and four-speed automatic transmission. Equipped with a 238-horsepower engine, six-speed manual transmission and 18-inch wheels and tires, the RX8 is priced from $26,680. It is propelled by the all-new 13B RENESIS rotary engine and is the latest in a three-decade-long line of Mazda rotary-powered vehicles.
Mazda continues to pioneer cutting-edge styling with the RX8's unique freestyle four-door design, effectively demonstrating that a true sports car does not need to sacrifice space or convenience. With enough passenger room for four full-size adults and enough trunk space to fit luggage for a weekend or two full-size golf bags, soulful driving is no longer solely for the driver.
Both automatic and manual transmission cars come equipped with power windows, mirrors and door locks, cruise control and an AM/FM/CD audio system with six speakers. To make ordering easy, both the automatic and manual are offered in four trim packages: a Base Model, Sport Package, Touring Package and Grand Touring Package. Priced from $1,100 for the manual transmission Sport Package to $4,600 for the automatic Grand Touring Package, they include accoutrements like Xenon headlights, Dynamic Stability Control with traction control, a BOSE audio system, heated seats and leather trimmed upholstery.
The RX8 delivers unprecedented sports car driving pleasure with the RENESIS rotary engine offering smooth, immediate power. Double wishbone front and multi-link rear suspension, complemented by electric power-assisted steering, yields razor sharp handling.
In addition to being the most revolutionary and cutting-edge sports car, the RX8 is also one of the safest with standard features like ABS with Electronic Brake Distribution, front- and seat-mounted airbags as well as side air curtains. Mazda also incorporated high-strength steel construction for the side paneling and a special door-latch system in the freestyle door openings to create a solid exterior shell. The RX8 is truly a sports car like no other at a value like no other.
The Mazda RX8 comes with a four-year roadside assistance program. With a call to a toll-free number, RX8 owners can access roadside assistance 24 hours a day, 365 days a year throughout the United States and Canada. For all 2003 Mazda vehicles, the company will provide a free loaner car in the event a warrantable condition requires alternative transportation.
The RX8 is covered by a comprehensive four-year/50,000-mile warranty that covers every part on the vehicle except those subject to normal wear. In addition, the RX8 is covered by a five-year/unlimited-mileage corrosion warranty.