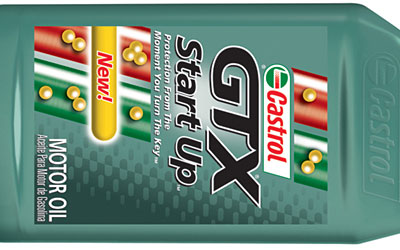 Castrol GTX Start Up is a new brand of motor oil that is specially formulated to provide superior start up protection and reduce engine wear.
Because the rate of engine wear is higher during the critical start up period, Castrol GTX Start Up is formulated to provide start up protection. The polarized ester molecules in Castrol GTX Start Up cling to an engine's metal surfaces to provide advanced anti-wear protection. This oil is not designed just for winter or cold weather starts, but for every single time a car is started.
Nearly every time an engine is started, it is placed under a higher level of stress for up to ten minutes. After the start up period has concluded, Castrol GTX Start Up's synthetic boosters provide continued protection for your car. Castrol GTX Start Up is formulated with higher-quality, less volatile base stocks for less oil burn off, and with a superior level of thermal breakdown protection for fewer deposits.
The Castrol brand has extended its product line in the past two years to meet the needs of consumers. It continues to set the standard for high-performance lubricants with the addition of premium products and grades. Tagged "Protection From the Moment You Turn the Key," Castrol GTX Start Up will have a national rollout and be supported with a strong marketing campaign, including effective consumer advertising, consumer promotions ,and key sponsorships to drive awareness and trial.
Castrol GTX Start Up provides advanced engine protection for today's higher performance engines. It is available in SAE 5W-30, 10W-30 (both meet the requirements for API energy-conserving oils) and 10W-40 grades. These grades exceed all passenger car and light truck manufacturers' warranty requirements for the protection of gasoline and turbo-charged engines where API SL, SJ or SH is recommended. They also exceed the engine protection requirements of ILSAC GF-3 for API Certified Gasoline Engine Oils in every grade, as well as the U.S. shear stability and stay-in-grade requirements.
Castrol markets premium lubricants and business-building programs directly to independent lube operators, service providers, new car dealers and automotive retailers. Castrol's leadership brands include Castrol GTX, a premium conventional motor oil; Castrol GTX High-Mileage, designed for vehicles with over 75,000 miles; Castrol GTX Start Up, Protection From the Moment You Turn the Key; Castrol Syntec Blend, with an added level of synthetic protection; Castrol Syntec, a full-synthetic, super-premium motor oil; and its successful Super Clean line of specialty products.