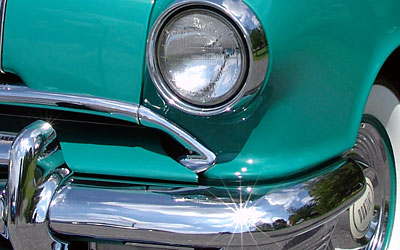 As summer travel increases, AAA Chicago urges motorists to consider how the weather can affect their vehicles while taking a road trip. With that in mind, the club has developed a handy list of tips to help motorists have a safe and trouble-free summer on the roads.
Engine
Change the engine oil and filter if needed. It is recommended this be done every three months or 3,000 miles.
Get a tune-up if necessary and check vehicle owner's manual for frequency.
Inspect cooling system hoses for leaks and drive belts for cracks.
Tires
Check your tire pressure as temperature changes can affect it. Having the proper tire pressure will maximize your gas mileage and save wear and tear on your tires.
Check the condition of your tires. Did they sustain any damage? Is there anything visibly wrong like cuts or bulges in the sidewalls? If so, have them checked.
Air Conditioning System
With cooler than normal spring temperatures, most motorists haven't had to use their air conditioning. Run the system before heading out on the road to make sure it is working.
Cooling System
Have your anti-freeze tested to make sure it's up to strength-it prevents your car from overheating. Check that your radiator pressure cap is in good condition. Your maintenance schedule should also be up to date to ensure smooth sailing throughout the summer.
Last year, AAA Chicago's Emergency Roadside Service teams towed more than 184,000 cars, changed more than 51,000 flat tires and boosted more than 85,000 car batteries. Hopefully, with some minor preparation, area motorists will avoid becoming one of those statistics during the Memorial Day weekend.
"Nothing can spoil a summer road trip like an automotive breakdown," said Steve Nolan, spokesman for AAA Chicago. "Therefore, it is essential that motorists follow some commonsense tips to keep their vacations as safe as possible."
AAA Chicago is a membership organization that provides automotive, insurance, travel and financial services to more than 780,000 members and the general public in Illinois and northern Indiana. AAA Chicago is a member of The Auto Club Group and an affiliate of AAA National-the largest leisure travel agency in the United States.