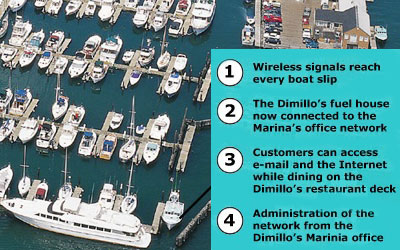 Located in Portland, Maine, DiMillo's Marina at Long Wharf encompasses the romance of Maine's waterfront, the charm of its Old Port shopping district and now, a ubiquitous high-speed wireless Internet service from Single Digits -- broadcasting across 130 boat slips and its world-famous floating restaurant.
DiMillo's caters to boaters from all over the world, piloting yachts up to 250 feet in length. With the new Wi-Fi service, captains enjoy convenient dockside check-in and the entire crew can instantly converse with family and friends via email from the comfort of their cabins. Strolling along the 130 slips, it's not uncommon to find people relaxing on their boats with a cold drink while surfing the Internet.
Individuals seeking to embrace DiMillo's ocean-side ambiance, but lack a sea-going vessel to dock, dine at DiMillo's Floating Restaurant. The upper bow of the enormous converted car ferry is an outdoor patio which complements the lower dinning decks. Here, tourists and business individuals overlook the docked guests while enjoying fresh lobster with a side order of wireless Internet.
"The new wireless Internet service is a natural fit with our clients' lifestyle," said Sarah Foshay, marina manager, DiMillo's. "Two years back, we spent considerable time and expense running cable TV connections to every slip in order to meet our customers' demands. Today, we were able meet their new requirement of Internet service in about one day -- without running new cables -- with Single Digits' business-class hotspot management software."
Single Digits' business-class hotspot management software has enabled DiMillo's Marina to quickly install and manage a new wireless utility for their clientele and business operations. Unlike other wireless hotspot offerings, Single Digits enables DiMillo's to set their own access rates based on what area hotels are charging for similar wireless Internet service or offer free access to preferred customers.
The user-friendly operation of Single Digits' software enables a non-technical individual to easily manage the entire wireless network. With the click-of-a-mouse, users can be added or removed and revenue reports printed. And because it's a Single Digits' hotspot, DiMillo's is able to provide wireless Internet access while showcasing their services and not those from a third-party wireless provider.
Moving forward, the marina will incorporate the wireless connectivity into its fuel and snack shop located 500 feet down the dock from the main office. With the help of Single Digits, all point-of-sale receipts from the shop will be wirelessly transmitted to the office, saving considerable time from manually transferring receipt information off of paper and into the main system.