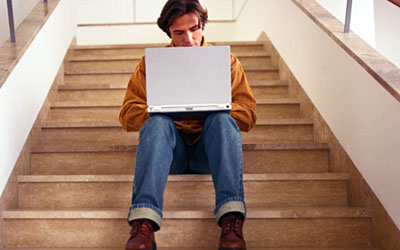 Green Packet, a leading developer of intelligent roaming infrastructure and wireless network solutions, and WiFi Metro, one of the largest wireless Internet service providers (WISPs) in the U.S, today announced the first field trial marrying cellular and Wi-Fi networks. The trial will take place in the San Francisco Bay Area over the next three months using GreenPacketis SONaccess IP mobility solution and the WiFi Metro network. This trial marks the first real world application of seamless roaming between cellular and Wi-Fi infrastructures, allowing users to move freely from one network to another without having to log on and off.
According to CC Puan, CEO and President of Green Packet, "The partnership created by our companies is proof that cellular and Wi-Fi are not competing, but complementary technologies."
Arturo Pereyra, General Manager of WiFi Metro adds, "Seamless cellular and Wi-Fi roaming allows WiFi Metro to offer a new service to our customers and establishes WiFi Metrois leadership position among Wi-Fi services providers. This solution delivers an "always on" connection that delivers on the promise of true mobile computing."
The core technology that enables seamless roaming between cellular and wireless is Green Packetis SONaccess IP mobility solution. WiFi Metro will integrate SONaccess routers and client software in its Bay Area "HotZones" to provide users uninterrupted connections to wireless networks. As a result, wireless users will now be able to roam seamlessly between cellular networks and the WiFi Metro network. This new application creates additional freedom and significantly improved access for end users, fueling the growth and popularity of cellular and wireless networks in the public arena.
SONaccess consists of a set of carrier-grade IP routers and client software for wireless devices such as laptops, PDAs, and smart phones, providing always-on access to information for increased business productivity. In addition, data such as important alerts, always-on email, location-based offers, and value-added network services can be efficiently "pushed" and "pulled" via SONaccess technology. The Green Packet solution integrates existing wireless LAN and cellular network infrastructures into a single, seamless solution that optimizes mobile connectivity and performance.
WiFi Metrois HotZones, launched earlier this year, are located in the heart of downtown San Jose, and Palo Alto, California. Users can logon to the Internet wirelessly from their laptops or PDAs at speeds that are up to 200 times faster than dial-up access when they use the HotZone or any WiFi Metro location.
The field trial is expected to last ninety days and will create the opportunity for both WiFi Metro and Green Packet to study user patterns. The conclusion of the trial will include a commercial agreement between the partners