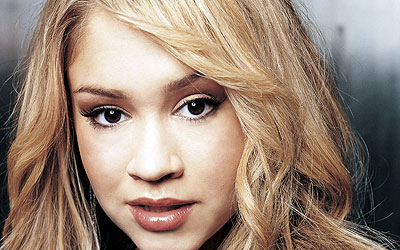 17-year-old Diana DeGarmo puts the cap on a great year with the release of her debut album, Blue Skies. The RCA Records Label CD teams DeGarmo with hot contemporary songwriters and producers, and arrives in stores December 7, a half year after she went up against Fantasia Barrino in the exciting season finale of the popular Fox series.
Among the stellar producers who helmed tracks for the album are David Foster, John Shanks and Desmond Child. Songwriters include Kara DioGuardi, Anbdreas Carlsson, as well as Foster, Shanks and Child. The album includes Dreams, DeGarmo's hit single that is one of the top three best-selling singles of 2004, as well as the Melissa Manchester's Don't Cry Out Loud. DeGarmo performed both songs on the American Idol finale, seen by over 40 million viewers.
The first new single from Blue Skies is Emotional, produced by Andreas Carlsson and Desmond Child and written by Carlsson and Child with Chris Braide. Emotional goes to radio on December 6, and early buzz indicates another hit for DeGarmo.
To promote Blue Skies over the next few weeks, DeGarmo will make multiple television appearances. She'll be seen on CBS-TV's The Early Show December 7, Live With Regis and Kelly on December 8, the Disney Christmas Parade on ABC on December 25, and The Brian Boitano Skating Spectacular on NBC on January 1. Diana will also be featured on the upcoming cover of Teen Prom magazine, which hits newsstands in late December 2004.
Track listing for the Blue Skies album:
Cardboard Castles
Blue Skies
Emotional
Then I Woke Up
All I Never Wanted
Go On And Cry
The Difference In Me
Till You Want Me
Dreams
Boy Like You
Dream, Dream, Dream
Don't Cry Out Loud.