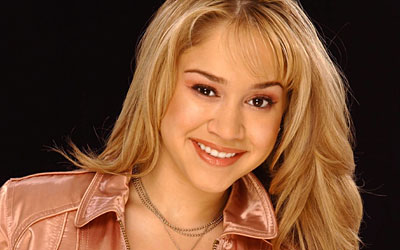 Diana DeGarmo, the 17-year old from Snellville, Georgia who was the runner-up on the third season of American Idol, will join the ranks of' Idol finalists with hit records as RCA releases her first single on June 29, 2004. The double-A sided Dreams and Don't Cry Out Loud also features DeGarmo's version of I Believe, performed by both DeGarmo and Fantasia Barrino on the final night of competition of the wildly popular TV series.
Diana released her debut Blue Skies Album in December 2004.
Diana has been selected to unveil the 2005 Mustang Convertible at the Los Angeles Auto Show in January.
DeGarmo, who has been singing since she was five years old, auditioned for American Idol in Hawaii and made it into the top 32. She was the first contestant voted into the top 12, and held off all competitors to finish in the top two.
Her first single leads off with Dreams, written by Desmond Child, Andreas Carlsson and Chris Braide. Child has written hits for Ricky Martin, Bon Jovi, Aerosmith and Cher, among many others. Carlsson has penned hits for Celine Dion, Backstreet Boys and 'N Sync. Braide's most recent hits include This Is the Night and Invisible, both recorded by last year's American Idol runner-up Clay Aiken.
Dreams is a double-A side with Don't Cry Out Loud, originally a top 10 hit for Melissa Manchester in 1979. Clive Davis, who headed Arista Records when the label released Manchester's original, personally selected the song for DeGarmo to sing on the May 18 edition of American Idol. Davis was the celebrity judge on the show that night, and joined Simon Cowell, Paula Abdul, and Randy Jackson in overwhelming praise of DeGarmo's performance.
With DeGarmo scheduled to go into the studio to record Don't Cry Out Loud, Manchester volunteered to come in and give Diana some tips on the song. "We remained faithful to the original version which became the basis of our new production, then we added Diana's vocals, recorded some new overdubs and mixed it," according to Steve Ferrera, Senior Vice President of A&R for The RCA Music Group.
Don't Cry Out Loud is available for streaming through AOL's First Listen program. AOL users are able to hear the song by going to AOL Keyword: First Listen.
The third track on DeGarmo's debut single is I Believe, written by first season American Idol finalist Tamyra Gray, Sam Watters and Louis Biancaniello. This is the song performed by both DeGarmo and Barrino on the May 25 finale of American Idol.
BMG owns more than 200 record labels in 42 countries including Ariola, Arista Records, J Records, Jive Records, RCA Records and RCA Label Group -- Nashville.