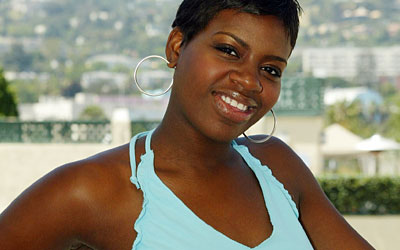 | | |
| --- | --- |
| | Fantasia Free Yourself debut album of American Idol champion produced with help from Missy Elliott, Jermaine Dupri, and Rodney Jerkins. |
American Rag Cie apparel brand has signed this year's American Idol winner Fantasia Barrino as spokeswoman. As part of this agreement, Barrino will be appearing in a national advertising campaign, making personal appearances in the American Rag Cie shop-in-shops in select Macy's stores and wearing the brand in public appearances throughout the year.
According to Nancy Slavin, Group Vice President of Marketing for Federated Merchandising Group, "We're thrilled to have Fantasia on board. She has a great presence and exemplifies the cool personality of the American Rag Cie brand. We know she resonates with our customer."
"I'm excited to be teaming up with American Rag Cie and wearing their clothes on tour," said Barrino. "It's a wonderful brand and the clothes have great style."
American Rag Cie is a casual sportswear collection for juniors and young men that is grounded in denim looks with vintage styling. In March 2003, Federated established an exclusive partnership with Private Brands Inc., a division of Tarrant Apparel Group and the owners of American Rag Cie license, to roll out this brand to select Federated stores nationwide, offering consumers a fresh take on sportswear with vintage inspired themes. American Rag Cie is available exclusively at more than 180 Macy's stores nationwide.
Gerard Guez, Chairman and CEO of Tarrant Apparel Group, said, "American Rag Cie connects with the lifestyles and interests of the 15-24 year-old consumer. We know that Fantasia will be a great spokeswoman for the company."
Fantasia Barrino, a 20-year-old from North Carolina, wowed audiences with her amazing voice and captured America's heart with her spirited personality during the 2004 American Idol competition. She was crowned this year's Idol, winning by 1.3 million votes. Her CD single, "I Believe," was released on June 22, and she will be performing in more than 50 cities nationwide as part of the American Idols Live tour.