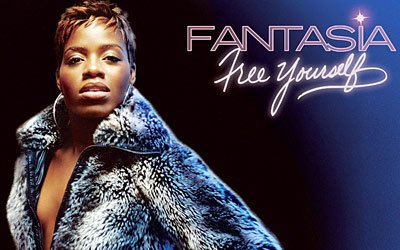 | | |
| --- | --- |
| | Fantasia Barrino American Idol winner becomes spokeswoman for vintage clothing brand casual sportswear collection. |
J/19 recording artist Fantasia, the American Idol 3 champion who made Billboard History with her first record I Believe in June, is set to release her debut album Free Yourself. The album, arriving in stores November 23rd, will feature guest appearances by Missy Elliott, who is producing three tracks, and a host of hitmakers that include Jermaine Dupri, Rodney Jerkins, Soulshock and Carlin, The Underdogs, Jazze Pha, and others.
Free Yourself album producer Clive Davis, Chairman and CEO, BMG North America - who served as a judge in the final stages of American Idol and signed Fantasia to J Records in association with American Idol creator Simon Fuller's 19 Recordings Ltd. - has announced that the artist's first single will be Truth Is, produced by Soulshock and Karlin. Truth Is will impact Urban and Rhythm radio on November 15, and Top 40 radio on November 29.
"Fantasia is the real deal, an artist who is instantly identifiable and very much her own person," said Davis. "She will have a long and illustrious career."
In addition to reprising I Believe, Free Yourself will include Fantasia's show stopping version of the Gershwins' Summertime, the song that took her to the final round on the American Idol competition. Fantasia made Billboard history by becoming the first artist in the history of Billboard's Hot 100 chart to debut at Number 1 with her first record, I Believe. I Believe is currently the best selling single this year according to Neilsen Soundscan charts.
Free Yourself will also contain no less than three collaborations with Missy Elliott as producer and co-writer: Selfish (I Want U 2 Myself) (featuring Missy), the album title tune Free Yourself and Good Lovin'. Among the album's other highlights: The Underdogs produced Ain't Gon' Beg You and You Were Always On My Mind made famous by Willie Nelson, Baby Mama (co-written and produced by Harold Lilly), Don't Act Right (with Jazze Pha), It's All Good (with Rodney Jerkins), This Is Me (The Underdogs), and Got Me Waiting (produced by Jermaine Dupri).
"Working with Fantasia was fun because she's so into what she does and she understands that she's one hit record away from being not only the biggest American Idol, but one of the biggest stars in the world," said Jermaine Dupri.
Fantasia's upcoming appearances include the American Music Awards, Good Morning America, 20/20, The Tonight Show with Jay Leno, Ellen, Live with Regis and Kelly, and Early Show. Fantasia will also make a guest appearance on NBC's American Dreams (November 14, NBC) as her idol, Aretha Franklin and she will perform on the American Idol Christmas special (with Kelly Clarkson and Ruben Studdard) airing on Fox on November 24.
As the pre-release campaign heats up in support of Free Yourself, the High Point, North Carolina native and single mother is proud of the work she has accomplished on her debut album. "I want the songs I record to show different aspects of what I can do musically," she says. "I feel like God has blessed me and now I just want to give something back."