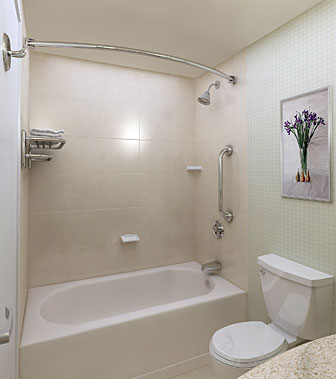 Eggrock builds entire bathrooms in a controlled factory setting and ships them to the construction site ready to install. For a Hilton Garden Inn, Eggrock will deliver all 155 bathrooms in five days. The bathrooms will be built according to Hilton's quality requirements and inspected prior to delivery.
"Bathrooms are one of the most difficult parts of hotel construction. Not only are they difficult to build, but they are one of the biggest sources of end-of-job punch lists that delay hotel opening" said Faizel Kassam of Alpha Legacy Construction. "As a Hilton franchisee we are concerned about both improving workmanship quality as well as simplify construction."
Eggrock produces customized, ready-to-install bathrooms.