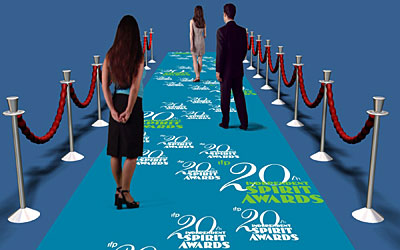 Bucking conventional red, the organizers of the Independent Spirit Awards had Durkan Patterned Carpet create a custom blue and green design punctuated with its logo along the 190-foot length. Durkan is the country's leading creators of carpeting for the hospitality industry.
In addition to broadloom tufted carpet, customers can choose the flexibility of modular carpet to create all-new designs. Different patterns within pattern families are color-matched for effortless tile interplay. Tiles coordinate beautifully with the broadloom carpet, adding visual interest to a space or creating transitions from one type of floor covering to another.
Hospitality customers know they can take the favorable impression from the lobby throughout their installation and into guest rooms. Breathtaking patterns repeat only once every one hundred feet. Seamless bordered designs and hard-to-fit spaces are no problem. The combination of proprietary processes allows for vivid color and the ultimate pattern definition to bring any space to life.
Durkan is a brand of the Mohawk Group.