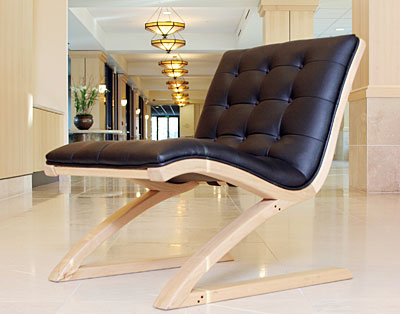 Engineering professor Robert Eustis launched Menlo Furniture Designs to develop elegant chair designs with modern curvilinear shapes expressed with the traditional warmth of wood materials. The company's Milano chairs and ottomans are instant classics that complement the architecture of homes, offices and other premium locations.
"The sinuous beauty of modern design has always inspired me," explained Professor Eustis. "The eye is naturally drawn to the perfect arc in modern architecture, sculpture and decorative arts. I wanted my chairs to reflect this modern sculptural vision, while respecting the timeless craftsmanship of the great wooden furniture makers."
After retiring from Stanford's faculty in 1990, the professor devoted himself to designing a nearly indestructible joint for wooden furniture. By invisibly embedding steel within a wooden joint, he was able to create chairs with the refined esthetic of classic wood designs, but with the strength to stand up to years of sit-down use.
The Eustis Joint not only enabled the manufacture of a stronger, more robust chair, it also opened new design possibilities. Curvilinear lines, which previously depended on the flexibility of metal, could now be expressed with the warmth and distinctive character of wood.
Professor Eustis launched Menlo Furniture Designs to explore the exciting creative possibilities of the Eustis Joint, creating unique chair designs that possess the versatility to fit residential, office and many other locations.
"The design of these chairs is special in every way -- aesthetics, structure and ergonomics. Not only are they beautiful to look at, like a piece of sculpture, but they look wonderful in a variety of interior styles," said interior designer Jerrine Barrett. "The structural integrity of these chairs reflects extraordinary engineering and effort, which adds interest for those clients that appreciate quality. And, most importantly, they offer the comfort which welcomes any owner to sit for endless hours."
Milano Chairs are priced between $1,380 and $1,590, depending on wood and fabric choice. Milano Ottomans are priced between $575 and $610.
Each Menlo Furniture chair is tested to withstand more than 400 pounds, and each chair is guaranteed. The company's Milano Chairs and Ottomans are inspired by the finest Italian design and based on ingenuity that's clearly American. Beyond fitting the location, Menlo Furniture chairs also fit the customer. The natural flex of the wood provides a subtle and reassuring response to the body.
Standard upholstery materials are offered in a choice of premium aniline dyed Italian leather in black or saddle, or a premium quality fabric woven of 55% cotton and 45% linen from Glant Mills located in Northern Italy. The fabrics are available in 4 beautiful colors -- Sand, Cashew, Reed and Sage. Milano chair frames are made of premium hardwood domestic maple, walnut or cherry and are kiln-dried to 6-9% moisture content to ensure that they will not crack, warp or split. A two-coat varnish finish is hand-rubbed to a beautiful and durable luster.
Menlo Furniture Designs manufactures elegant premium quality chairs for home and business.