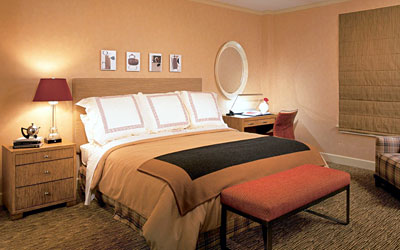 Joie de Vivre Hospitality will open the massively-renovated Hotel Montgomery in Downtown San Jose on June 25, 2004. The 86-room Hotel Montgomery is a treasure of San Jose that was considered cutting edge when it opened in 1911, and with this renovation will once again establish itself as a bastion of taste, comfort, innovation and style. Today's techy traveler will be quite content to discover the Hotel Montgomery, a chic and contemporary environment where they can tap on their laptop or mingle with fellow business travelers in style. Both Silicon Valley visitors and residents alike will be drawn to the casually hip Paragon Restaurant & Bar.
Some would question the business acumen of opening a stylish boutique hotel during a lagging economy, and in the middle of downtown San Jose, an area that the public has only recently started to note for its sophistication. To make sense of this strategy, one doesn't need to look much further than the history of Joie de Vivre's visionary practice of opening unique hotels in unexpected places. And now they can add the distinction of opening hotels that get moved to unexpected places. The Hotel Montgomery was moved an extraordinary 186 feet south of its previous location in one piece, an engineering feat that was the first of its kind. The cost of the relocation, the seismic retrofitting and other renovations have been partially covered by a contribution from the San Jose Redevelopment Agency (SJRA). The developer of the Hotel Montgomery is a partnership between Epicus Development, Inc. and DivcoWest Properties, under the direction of Michael Dumke, President of Epicus Development.
The building's striking Renaissance Revival architecture will marry handsomely with the casual elegance and amenities that today's modern traveler expects. The Dallas-based team of Alice Cottrell and Rick Rozas created an elegant design scheme for the hotel that pays homage to its refined and traditional past. The guestroom experience is a luxuriously authentic one, with leather-like wall coverings, Egyptian-cotton bed linens, Burberry plaid-covered lounge chairs and original artwork by artist Rex Ray in each room, with original decorative amenities by San Francisco-based Ken Wingard. For the lobby, Cottrell and Rozas used the best of design over the past century as their inspiration, including glass-paneled chandeliers from the '20s, wingback chairs reminiscent of the '30s, and modern artwork from the '70s.
The addition of Paragon Restaurant & Bar (with over 150 seats inside and outside) will offer guests a clubby and contemporary environment that includes an impressive collection of almost 100 vodkas that are chilled and frosted while resting on custom "ice shelves" behind the bar.
Other significant creative partners include San Francisco-based Page & Turnbull Architects and Marta Fry Landscape Design. The plaza will feature the unusual presence of bocce ball courts, sure to establish the Hotel Montgomery as a downtown gathering place. Its location makes it desirable for corporate and group travelers, with close proximity to the Convention Center, the San Jose Tech Museum of Innovation, the San Jose Museum of Art, the Opera San Jose, and the HP Pavilion.
The Hotel Montgomery will include six suites. Guestroom services and amenities include in-room high-speed Internet access, CD players with a CD lending library, individual robes, and a complimentary beverage during weeknights. Introductory rates range from $139 for deluxe rooms to $199 for a one-bedroom suite. For groups, the hotel also provides two meeting rooms with room for 30 and 40 people each.
"The Montgomery Hotel is a timeless treasure and we are committed to preserving its character," says Chip Conley, founder and CEO of Joie de Vivre Hospitality. "We have closely followed historic guidelines set locally and by the Department of the Interior to celebrate the natural assets of this landmark. Hotel Montgomery is so unique in its ability to impart a sense of both history and the future. Our goal is to share this emotional connection with each person that walks through the doors of the Montgomery."
Joie de Vivre Hospitality is a creative collection of lifestyle businesses with more than 25 boutique hotels and one day spa.