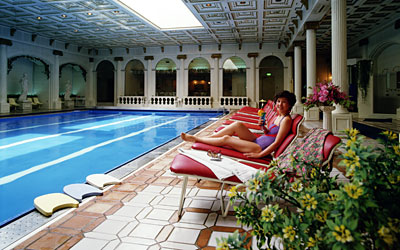 Consilnet and Holiday Inn Park View Singapore on Monday jointly launched the first all-wireless broadband Internet-accessible hotel. The state-of-the-art wireless broadband service will allow ubiquitous, secure and wireless high-speed Internet and intranet connectivity for guests within the entire hotel premises.
Consilnet, based in San Jose, California, is using Singapore to springboard its high-speed wireless technology, Freedom, in major Asian cities. The Company builds, owns and operates its own network to offer plug-and-play broadband Wireless Internet Access, riding on 802.11b wireless technology, to business travelers.
A guest will be able to enjoy a unique user experience of surfing from virtually every room and from anywhere in the hotel premises. Guests can select from a variety of packages depending on how much and how often they need to access the network and get billed automatically.
Mr. Dinky Puri, General Manager, Holiday Inn Park View Singapore said: "We have a great partnership going with Consilnet -- they have provided the hardware and software expertise and in sales and technical training. This is a truly value-added service in an age where business travelers are increasingly sophisticated and Internet-savvy. We are proud that Consilnet is using Holiday Inn Park View Singapore to launch this service."
Consilnet Singapore will serve as the Asia-Pacific headquarters for the expansion to all major Asian cities.
In each major metropolis Consilnet will provide access at hotspots like hotels and complexes such as convention centres and airports. By 2004, notebook PC penetration around the world is expected to exceed 100 million and it is projected that 18 million WLAN cards will be sold.
"We are targeting to deploy the Freedom Wireless Broadband Internet access network to more than 200 Hotspots this year, as business executives are increasingly dependent on Internet-based resources while traveling. Consilnet provides these road warriors the essential tools to remain connected as well as work remotely at an economical price," said Mr. S. K. Vinod, CEO of Consilnet.
"Apart from the high-speed wireless Internet access of up to 11 mbps and broadband applications, Consilnet is indispensable to the busy business traveler as it facilitates secure access to corporate networks to obtain email, download files or access other corporate information like ERP data," he added.
In India, Consilnet has established partnerships with leading hotels. Consilnet's Dubai-based subsidiary, Consilnet Middle East, has established partnerships with leading chains and is slated to commence operations before the end of the year.
Consilnet plans to establish more than 6,000 Hotspots -- not just in hotels but also at convention centres and airports -- and add a subscriber base of more than one million users by 2005.