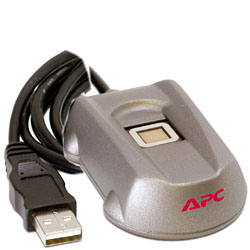 American Power Conversion (APC) today announced the APC Biometric Password Manager, a personal fingerprint scanner that makes it easy for PC and laptop users to manage their passwords. Based on the leading fingerprint sensor technology, the solution allows a user to biometrically secure their PC or notebook as well as eliminate the need to memorize passwords.
Today's announcement supports APC's vision of "protecting data wherever created, transmitted, or stored." For mobile professionals, having access to data while traveling is critical to success. APC's research and development efforts have responded to this need with innovations like the company's TravelPower Case and the Wireless Mobile Router. The APC Biometric Password Manager, the company's latest product innovation, helps address the rising issue of data protection including physical security and peace of mind.
"Today many PC and laptop users find themselves inundated with passwords for their email, online trading, shopping, and banking accounts," said Joe Loberti, general manager, APC Consumer Network Solutions Group. "To remember all of these different passwords, many will write them down on pieces of paper where they can be lost or viewed by unwanted users. For less then $50, the new APC Biometric Password Manager solves this problem. It offers a convenient and secure method for users to access their password protected sites. With the Biometric Password Manager, it is no longer necessary for users to remember or write down passwords that can be easily misplaced or stolen."
The APC Biometric Password Manager permits up to twenty different fingerprints or twenty different users to store passwords on a single computer system. Each user enrolls using a finger as their identification source. The Biometric Password Manager's sleek innovative design allows for stable placement and accurate finger verification. It comes equipped with a 6-foot USB (Universal Serial Bus) cable, easy-to-use software, and is compatible with Windows (XP, ME 2000, and 98) operating systems.
The software stores an unlimited number of login names and passwords. When using with Windows XP, the APC Biometric Password Manager allows for fast user switching where each user's personal configurations and passwords are recognized on the shared laptop or PC with the touch of a finger.
Using AuthenTec's patented TruePrint technology, the APC Biometric Password Manager scans fingerprints below the surface of the skin to the live layer or true fingerprint. TruePrint is not affected by common skin surface conditions including dry, worn, calloused, dirty or oily skin that can affect other sensors' ability to acquire accurate fingerprint images for user authentication purposes. TruePrint is the only fingerprint sensor technology capable of acquiring anyone's fingerprint under virtually any condition.