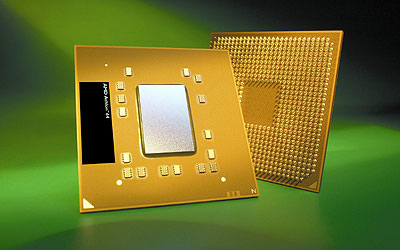 AMD has introduced two new low-power mobile processors designed to offer outstanding computing performance and true mobility for thin and light notebooks. The new low-power mobile AMD Athlon 64 processor models 2800+ and 2700+ further expand the award-winning AMD Athlon 64 processor family, offering a powerful 32-bit computing experience today with a seamless transition to 64-bit applications. These processors also offer an Enhanced Virus Protection security feature, to be enabled by the upcoming Microsoft Windows XP Service Pack 2.
"AMD was the first to combine high-performance 32-bit computing with a 64-bit turbocharger in your backpack and on your desk. Now, thinner and lighter notebooks can be fueled with this same cutting-edge performance plus security enhancements to be enabled by the upcoming Windows XP SP2," said Marty Seyer, vice president and general manager, Microprocessor Business Unit, AMD. "We're bringing customers peace of mind by helping them protect their data and their PC investment."
Like all the existing AMD mobile processors, these new low-power offerings enable an outstanding computing experience on the go with extended system battery life enabled by AMD PowerNow! technology, as well as the benefit of wireless compatibility with today's most popular wireless solutions.
Global PC vendor Acer is among the first suppliers to support the use of low-power mobile AMD Athlon 64 processors in a new Ferrari brand thin and light notebook for consumers and business customers worldwide.
Likewise, Chinese manufacturer Amoi Electronics Company Ltd. is incorporating the low-power mobile AMD Athlon 64 processor in a notebook.
"As the first China OEM to announce development of a low-power mobile AMD Athlon 64 processor-based notebook, we expect to bring real benefits to our customers. The Amoi Va series will be equipped with the latest high-performance processor, as well as a widescreen display in an attractive slim-and-wide form factor," said Yale Guan, general manager of Amoi's Information Technology Group. "These benefits combine to provide mobile users with an exceptional, portable computing experience."
Thin and light notebooks will be available from Acer in May, while Amoi expects to offer the new Va series notebooks during the second half of this year.
The new low-power mobile AMD Athlon 64 processor models 2800+ and 2700+ are available immediately worldwide for thin and light mobile PCs.
All pricing is in 1,000-unit quantities. The low-power mobile AMD Athlon 64 processor models 2800+ and 2700+ are priced at $241 and $209, respectively.
The low-power mobile AMD Athlon 64 processor models 2800+ and 2700+ are ideal for thin and light mobile PC designs, due to their reduced thermal design power and smaller, lidless packaging. Notebooks powered by these processors will benefit from outstanding processing performance, 64-bit capability, HyperTransport technology for improved multi-tasking functionality, and an Enhanced Virus Protection feature that will be enabled by the upcoming Microsoft Windows XP Service Pack 2 in both 32-bit and 64-bit operating environments.
AMD64 evolves the industry-standard 32-bit x86 architecture to support the demanding 64-bit environment that will enable future generations of computer functionality and productivity. AMD designed the AMD64 platform to allow end users to enjoy reliable, best-in-class performance on the 32-bit software they own today while preparing for a seamless transition to high-performance 64-bit applications. The AMD64 architecture also enables a more secure computing environment by integrating technology that can take advantage of advanced anti-virus features in upcoming software.
Since the introduction of the AMD64 architecture in 2003, the AMD Opteron processor for servers and workstations and the AMD Athlon 64 processors for desktop and notebook computers have earned more than 45 awards for innovation and performance and the support of more than 1,000 OEMs, hardware and software developers, system builders and distributors.
AMD designs and produces microprocessors, flash memory devices, and low-power processor solutions for the computer, communications, and consumer electronics industries.