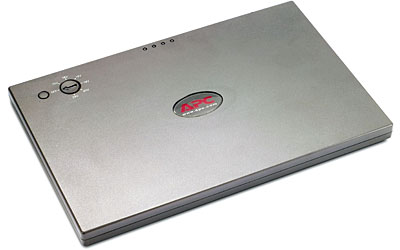 American Power Conversion has introduced a slim, lightweight portable power solution for notebook computers. Weighing less than twenty-eight ounces, the universal notebook battery provides a typical notebook user up to eight hours of continuous runtime. APC also introduced retractable telephone and network cables, a compact optical travel mouse, a USB battery extender, and a new surge protector specifically designed to provide complete power protection for notebooks.
"Mobile travelers need peripherals that are highly portable and offer increased availability," Joe Loberti of APC. "These innovations represent our latest commitment to enhancing user productivity, delivering peace of mind, and protecting data wherever it is created, transmitted or stored."
APC's Universal Notebook Battery supplies up to eight continuous hours of runtime (actual runtimes may vary by notebook model and power setting). There is a power level button and LED capacity indicators to allow the user to check the remaining battery power. The Universal Notebook Battery offers 15-24 volt options that users can set via a rotary voltage switch. An input/output power port provides a simple way to charge and power the battery using a laptop's power adapter. The battery includes tips and jacks that provide compatibility with most notebooks on the market today.
There is no need to purchase or carry additional power adapters to recharge the battery because the tips and jacks can be used with the laptop's OEM power adapter or with APC's Universal Power Adapter. Designed to integrate with APC's Universal Power Adapters and TravelPower Cases, the Universal Notebook Battery incorporates thermal management features, allowing it to be one of the only external notebook batteries designed to operate inside notebook cases.
American Power Conversion improves the availability, manageability, and performance of sensitive electronic, network, communication, and industrial equipment.