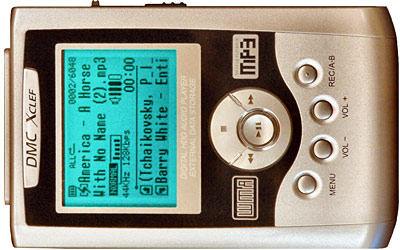 The DMC Xclef 500 portable music player and storage device has been upgraded from 80 to 100 gigabytes.
"The DMC Xclef 500 is one of the most sophisticated, full-featured, portable storage/music players available anywhere," says Jim Collier, Digital Mind's President and CEO. "Its massive 100 gigabyte hard drive makes it the "King Kong" of portable music products. Additionally, its 20 hour battery life, studio-quality direct encoding, voice recording, FM Radio recording, PC and Mac compatibility without special software, and world-class quality make this the must have device for tech-savvy users. With 100 gigabytes of storage, the DMC Xclef 500 is capable of holding more than 25,000 music files, or can be used to backup the entire hard drive on a user's computer. Since it is recognized as a USB mass storage device, files can be moved easily between PCs and Macs. Its intuitive user interface allows the user to start navigating through files and playlists almost immediately. It not only supports popular MP3 and WMA file formats, but also Ogg Vorbis, Wave and ASF.
"This is a very versatile product with cutting-edge features combined with enormous storage capacity. About the size of a PDA, it easily fits in the palm of your hand," Collier added. "Our customers have demanded increased functionality and storage capabilities, and we are pleased to respond. We see a growing demand for ultra high capacity portable storage media and expect 100 gigabyte drives to be common in our portable audio, as well as our new video products currently being developed for release early next year."
The DMC Xclef 500 is also available in 40GB, 60GB, and 80GB Capacities. Prices start at $249.