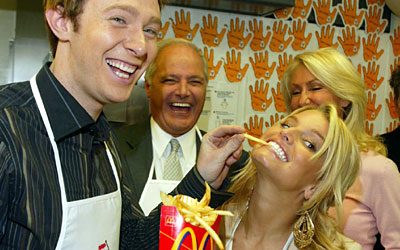 5G Wireless announced today that it has installed a high-speed wireless connection to a McDonalds restaurant in Sidney, New York. "Dial-up modems are much too slow and we needed a faster way to send and receive e-mail between McDonalds headquarters and our restaurant," stated Richard Dombrowski, owner of this location. "We've checked around and the only provider that we could find capable was 5G Wireless. We contacted 5G and they had us up and running in one day."
Dombrowski continued, "Now that we have high-speed internet service, our plan is to offer it to our patrons as they dine with us; sort of a McDonald's Hot Spot. 5G's internet service is very fast and we feel that our customers will enjoy the opportunity to eat while they surf the net at McDonalds. McDonald's prides itself on fast service, and we are extending our offering into the realm of technology. We plan to advertise this new service in our restaurant as well as through media and print."
"This is a wonderful opportunity for 5G," commented Don Boudewyn, Chief Operating Officer of 5G Wireless Communications. "We will work with Mr. Dombrowski in developing the `surf as you dine' concept at McDonalds and we will discuss the opportunity with other McDonald restaurant owners in our existing network areas in both New York and California."
5G Wireless Communications Inc., located in Marina del Rey, CA, manufactures, designs, builds, deploys and operates wireless broadband network systems with the primary focus on "economical" solutions for "Wireless, Last Mile" through point-to-point and point-to-multi-point technology. This allows 5G Wireless' customers to secure dependable, super high-speed Internet access, without the usual installation delays and at significantly lower total costs than most of its major competitors.