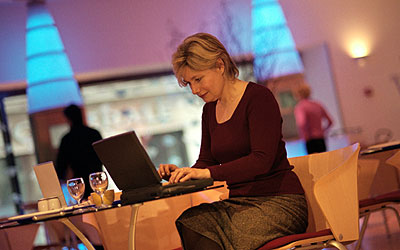 PCTEL WiFi-Texas announced today their cooperation in improving the subscriber experience in accessing Wi-Fi networks. The PCTEL solution will assist WiFi-Texas customers and Schlotzsky's Deli patrons in connecting to broadband wireless networks at dozens of WiFi-Texas Hotspot locations in the state of Texas and at participating Schlotzsky's Deli restaurants nationwide.
Specifically, WiFi-Texas has selected PCTEL's Segue Roaming Client to connect and automatically authenticate subscribers and other authorized users on their networks. Users of all WiFi-Texas installed Hotspots, as well as traveling subscribers who use Wi-Fi services on other networks, will benefit from PCTEL's Segue Roaming Client. Financial and other terms of the agreement were not disclosed.
The Segue Roaming Client offers an intuitive process to give laptop and handheld computing device users secure, seamless access and roaming capabilities to Wi-Fi networks in public areas, at the office, and in the home. The Roaming Client enables rapid scanning of available networks and a user-friendly connection process.