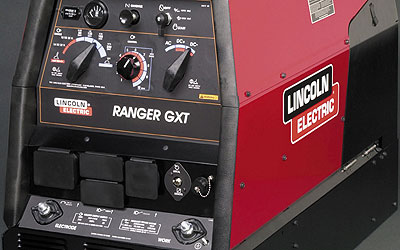 The new Ranger GXT from Lincoln Electric provides extra performance, power and protection for general contractors and maintenance teams who are looking for an AC/DC welder mated with a powerful AC auxiliary power generator.
What makes the Ranger GXT stand out is the sizeable AC generator power the unit provides. It offers 11,000 watts peak and 10,000 watts continuous power for powering inverter welders, plasma cutters, lights, grinders, and other power tools. A full-KVA 120V/240V outlet allows operators to run high- capacity motors; four 120V outlets allow the operator to power several tools at the same time. And, with the Ranger GXT, operators can simultaneously weld and use the AC generator power for maximum productivity.
The Ranger GXT has a powerful 250-amp welding output for Stick, TIG, MIG, and flux-cored welding as well as arc gouging with up to 3/16" carbons. Its smooth welding output provides exceptional welding capability and the unit's remote control capabilities allow for the addition of a foot or hand remote control current for excellent AC or DC TIG welding.
A fully enclosed case protects the Kohler 20 HP OHV gasoline engine's components and delivers low noise levels.
Rangers have been subjected to an extensive testing program to ensure reliable operation in a wide variety of environmental conditions. Manufactured under a quality system certified to ISO 9001 requirements, the Ranger carries Lincoln's three-year warranty (all engines carry a separate warranty by the manufacturer.)
Lincoln Electric designs and manufactures arc welding equipment and consumables, robotic welding systems, plasma and oxyfuel cutting equipment.