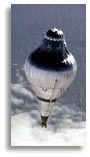 Pilot Steve Fossett's Bud Light Spirit of Freedom balloon crosses the Natal coast 45 kilometres south of Durban, South Africa at 27,000 feet, Sunday June 30, 2002. Fossett is embarking on his last leg across the Indian Ocean to return to Australia to complete the first solo circumnavigation of the World by balloon.
The Website of Steve Fossett was at spiritoffreedom.com
Amid applause and handshakes, Mission Control Director Joe Ritchie announced today that Steve Fossett had officially circumnavigated the globe in Bud Light Spirit of Freedom at a press conference in Mission Control at Washington University in St. Louis.
Fossett crossed 117 degrees East longitude at approximately 8:40 a.m. (CDT), making him the first person to ever successfully circle the globe in a balloon alone.
The event was very emotional for all of the members of Mission Control, as well as for Fossett, who was able to join them via a conference call. Fossett noted, however, that with almost a day until he lands in Australia, he has not been able to do much celebrating yet.
"You can't do very much celebrating," said Fossett to the laughter of Mission Control. "I do have a couple of bottles of Bud Light, but there's no one to drink it with."
He went on to add on a serious note that achieving this milestone was an "enormous satisfaction."
Members of Mission Control similarly responded with both joy and sincerity when addressing the media. Meteorologists Luc Trullemans and David Dehenauw both congratulated Steve. Dehenauw thanked the meteorological institutions in the United States that assisted with the mission.
"Without the efforts of U.S. scientists, this would not have been possible," said Dehenauw. Though he is from Belgium, Dehenauw found institutions in the United States to be extremely helpful throughout the flight.
Fossett also received congratulations from Washington University in St.Louis Chancellor Mark Wrighton and Joe Castellano, Anheuser-Busch vice president of retail marketing. Both expressed pride in having their institutions associated with the accomplishment, and Wrighton went on to thank the "great group of outstanding student [interns] from Washington University."
When asked what he has planned next, Fossett revealed that he has actually been working on another accomplishment for later this month.
"I don't want to say too much because I haven't even landed this one yet," said Fossett to the laughter of the audience, who explained that he hopes to fly a glider into the stratosphere by the end of July.
Bud Light Spirit of Freedom is expected to land early tomorrow morning (July 3).
July 1, 2002 - Ideal Landing Situations Explored
Steve Fossett is still flying high in Bud Light Spirit of Freedom, but lately his thoughts have become a bit more grounded. Now that he's three-quarters of the way around the world, he has begun to think about the final part of his journey---landing.
Project Manager Tim Cole has already left for Australia from Mission Control at Washington University in St. Louis. He'll arrive in Adelaide and begin scouting landing locations, although timing and exact headings are subject to last minute changes.
While most of the balloon's journey is determined by weather, Fossett will have some control regarding when and where he lands. With the balloon 1,100 nautical miles off the Australian coast, Cole has begun the work to find a place for Fossett to land. To help inform the pilot of his choices, Cole will seek out prospective landing sites via helicopter, considering such factors as ground wind speed and direction, and the area's accessibility for the recovery crew.
Winds and Drag
Cole said wind speeds of less than 10 mph are ideal, otherwise the balloon could drag for miles, as it did last year near Bage, Brazil. Bringing the balloon to a low altitude and starting to deflate means that the slack envelope is more vulnerable to ground winds. Monitoring these conditions is important because the balloon (and capsule) has lost about two-thirds of its take-off weight, going from about 19,000 pounds to 6,500 pounds. At this lighter weight, the possibility for dragging is even greater. Wind direction is also important, because it tells which direction the balloon may be dragged.
Not only is the act of dragging frightening---being trapped in a capsule, flying up quickly and coming down suddenly, all without being able to see---but the result can be dangerous.
Cole said he'll be looking for a vast spread of land with trees. One would think landing among trees would be dangerous, but actually they reduce the risk of dragging.
"Trees help slow the balloon down, reducing drag," he said.
One drawback to landing in trees is the envelope is destroyed and the capsule damaged, he said. Cole said that envelopes are never reused so this does not affect a landing decision. As far as the capsule, that can be repaired. If the flight is successful, the Smithsonian has requested to house the capsule next to Lindbergh's Spirit of St. Louis.
There is little chance of a water landing this time, which Fossett has done only twice in the past. That can be done safely, but accessibility to Fossett is limited and the capsule would be destroyed.
When to Land
Arrival time can affect ground surface conditions as well, Padelt said.
"Ideally we'd like to land at sunrise when the winds are calmest," he said.
A nighttime landing is dangerous but it may be possible for Fossett to "park" in a quiet area until day light, should a suitable landing prospect be found.
How to Land
When a suitable landing site is finally located, Fossett will level the balloon off about 50 feet from the ground and deploy two drag ropes that act as shock absorbers and help him rotate the balloon in the desired direction. Knowing he may drag once the balloon starts to deflate, he will try to face trees that can bring the balloon to a stop.
Fossett then has two choices: to deflate or not to deflate. If conditions are calm, he can opt to have a stand-up landing, meaning he will set the capsule on the ground and leave the balloon inflated, looking as it did during the launch. Padelt said Fossett would exit the balloon as soon as it stops and take in the sight along with the spectators.
If Fossett opts to deflate the balloon, he'll release bindings on two, six-foot diameter deflation ports tied off inside the balloon, permitting them to unfold through holes in the top of the envelope. The ports form chimney-like tables that rapidly deflate the envelope.
The ground crew then takes over, completing the deflation in about 30 minutes.
Cole said deflating the balloon can be quicker than inflation because during launch crew members have to be careful with every part of the structure. Nothing from a flight can ever be salvaged, except for the capsule.