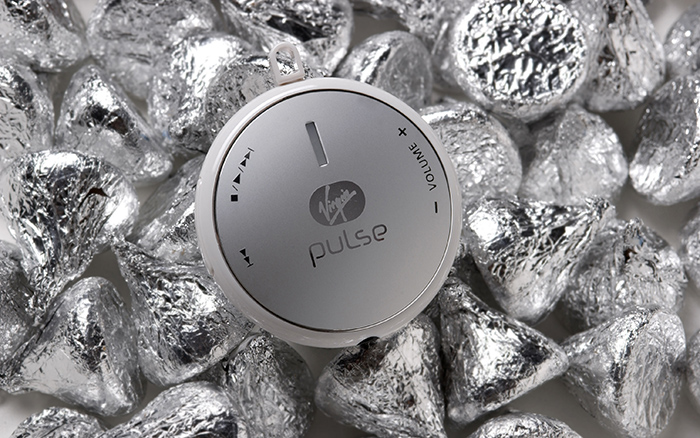 Today, Virgin Electronics unveiled a MP3 player that's so small it can fit any pocket. The silver-dollar size Virgin Electronics Wearable 128MB MP3 Player weighs just half an ounce and is ideal for people who love to enjoy music on the go. The Wearable 128MB MP3 Player delivers one of the best MP3 player values on the market today for under 100 dollars.
"The Virgin brand stands for value, quality, innovation and fun. The Wearable MP3 Player is exactly the type of product that you'd expect from a brand like Virgin," said Joe Sipher, senior vice president of marketing for Virgin Electronics. "When we called it the Wearable 128MB MP3 player, we meant wearable. The product is so small and light it can be worn comfortably around the neck, arm -- anywhere. No pockets required."
The Wearable 128MB MP3 Player holds roughly 40 songs and includes one of the simplest interfaces ever devised. The Wearable MP3 Player doesn't need complicated software or even a power adaptor. Consumers just plug the player into their PC or Mac USB port to load songs and charge the device, all at the same time with the same cable. Two simple buttons turn the player on and off, skip songs and control volume. The Wearable MP3 player comes with an armband and specially designed earbuds intended to be worn around the neck. Consumers can also attach any standard headphones to the player.
Virgin Electronics also today introduced affordable, high-quality noise-canceling headphones for economy flyers. The noise canceling technology actually hushes constant background noise, like the sound of a jet engine, to make the listening experience more enjoyable. The lightweight headphones fold to a compact size for storage and include a protective carrying case and airline stereo plug adapter. Less than 40 dollars, they are a fraction of the price of high-end models that provide similar function.
Both new products are available immediately at Target stores across the country.
Virgin Electronics creates personal, portable, simple, and connected digital products for consumers.