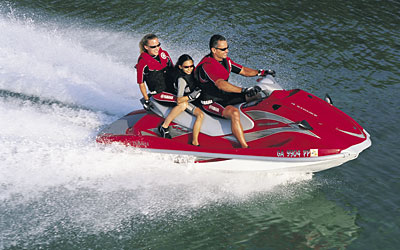 The WaveRunner VX110 Deluxe was named 2005 Watercraft of the Year by WaterCraft World Magazine.
The award recognizes the watercraft which best demonstrates excellence in the following criteria: innovation, market appeal, and long-term impact on the industry. To accomplish this achievement, Yamaha produced a four-stroke model that was accessible to the millions of families that are interested in on-water recreation.
"We set out many years ago to create a craft that would broaden the accessibility of high-quality on-water family recreation and it is gratifying that WaterCraft World Magazine has recognized this tremendous achievement," said Mark Speaks of Yamaha WaterCraft. "The VX110 Series is not only an important contribution to our line-up, but also represents a very positive addition for growing the sport."
With bold, stylish designs, and one of the best ergonomically designed riding positions, the new Yamaha WaveRunner represents Yamaha's next generation of family watercraft utilizing the latest in low noise, low emission four-stroke technology.
WaterCraft World noted "the watercraft delivers many of the features of higher-priced models, but in a more affordable package and at a higher performance level. For the recreational rider who wants a good-looking, all-around performer, the VX could be a perfect fit."
Equipped with an all new, 4-cylinder engine that boasts 110 horsepower, these highly-versatile craft are capable of towing a skier or wakeboarder and are the ideal craft for family recreation and multi-passenger adventure touring.