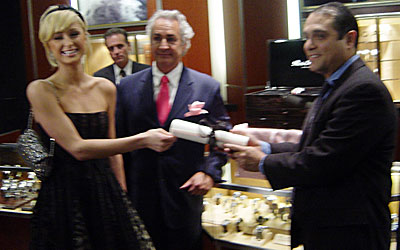 Oscar Rodriguez, CEO of Abazias, was the highest bidder at the live charity auction of the first watch in the Paris Hilton Limited Edition Series. Rodriguez paid $125,000 for the Swiss-made watch that features a thousand diamonds, eighteen karat white gold, and a five time-zone rotating ring.
In an invitation-only evening, hosted by Parlux Fragrance and Tourneau, the first watch created for Paris Hilton was auctioned off to the highest bidder by Antiquorum Auction House. "We are thrilled to have participated in this event," stated Oscar Rodriguez.
The watch will be featured by on the Abazias website.
Abazias has created a strong customer following based on customer service and site innovations that let shoppers create their own jewelry. In addition to delivering quality diamonds at wholesale prices, Abazias is also a full-service jeweler offering a large selection of settings for stones purchased.
Abazias showcases over seventy thousand diamonds.