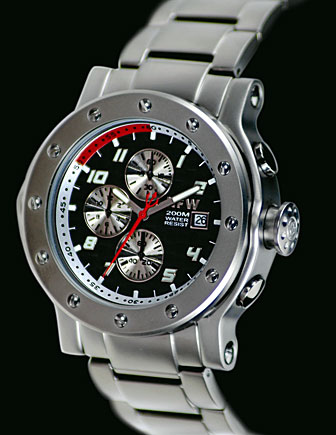 NFW men's watch line features twenty unique styles, each crafted with superior engineering and distinctive design.
"I started this company filled with a passion to originate exquisitely-made watches to sell at an excellent value, without sacrificing quality, design or engineering. I'm deeply inspired by artists, craftsmen and entrepreneurs who've made no compromises to their products, their companies, or their aspirations to reach beyond the norm," said NFW Founder George J. Fox. "As a result of this inspiration, I've created time pieces that are truly special, with distinctive designs guaranteed to make a bold fashion statement for every individual who wears them," Fox added.
The collection features four unique lines, each with different elements and details. All watches have a specially-designed, red second hand with NFW's logo.
The chunky Blok line makes a bold statement with polished stainless steel cases and leather or suede bands. The classic retro look of Vector features 3-hand day/date or chronograph movements. The sleek style of Munich has a contemporary feel. The Regulator line, inspired by a combination of motor sports and nautical gear, has rugged stainless steel bracelet bands.
The bands are made from extra thick, oiled Italian leather. Anti-reflective layers coat the hardened mineral glass crystals. Superluminova gives the ultimate in luminescence for watches. Screw-down crowns and casebacks ensure extra water-resistance. The cases are forged from solid blocks of stainless steel. High-quality, precision movements provide accuracy and reliability. The construction is shock-resistant and durable.
The watches are sold at specialty retailers for between $350 and $600. Each watch comes packaged in a metal box with a hinged lid and buckle closure creating a special presentation for each timepiece. If there are any manufacturing defects within the first five years, NFW will take care of it.