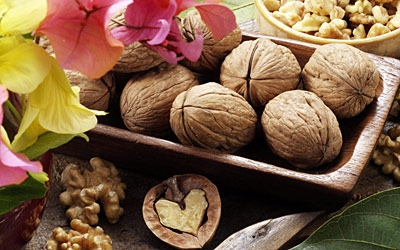 Results of a new study from The Pennsylvania State University show that consuming walnuts significantly reduces inflammatory markers for cardiovascular disease -- specifically, C- reactive protein and harmful plaque adhesion molecules. The article, "Dietary Alpha-Linolenic Acid Reduces Inflammatory and Lipid Cardiovascular Risk Factors in Hypercholesterolemic Men and Women," is published in the November 2004 issue of the Journal of Nutrition.
Many people look to fish, such as salmon, for omega-3 fatty acids. However, Penny Kris-Etherton, Ph.D., distinguished professor of nutrition at Penn State and primary investigator for the study states, "The omega-3 fatty acids in walnuts were converted to the same omega-3 fatty acids found in marine sources, and had a similar effect on inflammation. Reducing inflammation can help decrease the process of arteriosclerosis -- the development and build-up of plaque in the arteries."
Kris-Etherton notes, "The important new finding with our research is that a diet high in walnuts beneficially affects multiple risk factors for coronary heart disease, which can have a greater impact on decreasing cardiovascular risk than just targeting single risk factors."
To learn more about walnuts, visit the site of the Walnut Marketing Board.