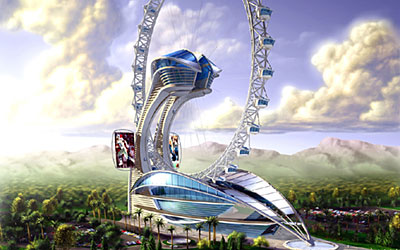 Voyager Entertainment International, Inc. today announces that a Memorandum of Understanding has been signed with the Bennett Realty Group of Laguna Hills, California. The MOU sets forth the basic terms for a joint venture, where Bennett Realty will provide the required acreage for Voyager to build a 600ft Observation Wheel and an Entertainment Complex.
The Voyager site is integrated within a 200 acre parcel located in the heart of the Dallas, Ft. Worth Metroplex.
Owned by Bear Creek Associates II and Bear Creek Associates III partnerships, the parcels are being master planned and developed as a "town center" or "lifestyle center." The proposed development will include retail, a theater, restaurants, nightclubs and entertainment venues, as well as a mixture of office space, hotels, and high-rise residential living.
Richard L. Hannigan Sr., CEO/President of VEII stated, "I am delighted to enter into a joint venture partnership with Mr. Bennett and the Bennett Realty Group. The land contribution relating to the new partnership by Bennett Realty provides Voyager land sufficient to finance and build a 600ft Observation Wheel. By joint venturing this project, Mr. Bennett demonstrates the same enthusiasm and confidence, that we share, in a truly world class project. It will be a pleasure to do business him.
"We are also very excited to release our new wheel design. Working closely with Paul Steelman and his incredible design team, we were able to transform the wheel, from an all too familiar dated concept, to a timeless structure, that will awe every visitor for generations to come. I believe these structures will join the list of the most photographed tourist attractions in the world."
With offices since 1986 in San Ramon, California (East Bay of San Francisco area), BRG manages over 2,500 individual, corporate, and pension investor accounts with investments in over 2,000 acres of real estate throughout northern and southern California, Austin and Dallas/Fort Worth, Texas, and Scottsdale, Arizona, where BRG has successfully achieved land use and development approvals. Whether single-family or apartment residential, commercial, retail, or industrial, BRG has land holdings in high-demand locations, available for sale or joint venture development. Fee land planning and entitlement services are also available. BRG is a privately held company.
Voyager Entertainment International is an entertainment development company that will build the "World's Largest and Tallest Observation (Ferris) Wheel". The 600-foot tall high-tech attraction will have the capacity of 7,500,000 guests per year with the average individual ride ticket of $18.00 USD. Each wheel consists of 32 sky cruisers seating 20 passengers and making a complete revolution ("the ride") every 27 minutes. Each Sky Cruiser consists of its own galley and lavatory to achieve the maximum comfort and safety for its passengers. This new concept and advanced technology far surpasses that of the London Eye Ferris Wheel, which has achieved the phenomenal success of approximately 4,000,000 riders per year.