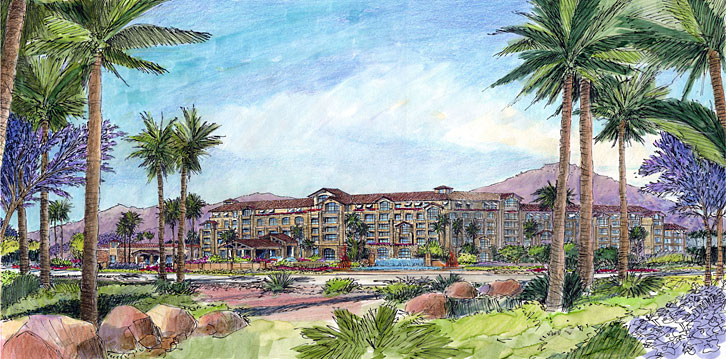 Remington Las Montanas Hotel Resort and Spa will be a world-class luxury hotel condominium on over twenty prime acres in Indian Wells in the Coachella Valley area of Southern California. It will be the flagship property for Remington's newly formed condominium hotel division.
As the company's flagship condominium hotel resort, Remington's plan is to make this the most unique, most exclusive and most luxurious hotel resort in the Palm Springs area. "It will become the standard for all future condominium hotels in the Remington product line," said Rob Haiman of Remington.
"We have over 100 people on our ownership reservation list, and we just opened. People recognize the unique convergence of this amazing location with a veteran developer seasoned in the financing, construction and management of these highly sought after properties," Haiman noted. "We expect to be sold out by spring of 2006."
The resort's location across the road from the renowned Indian Wells Tennis Garden will offer freedom from needing a car once someone arrives. "You'll be able to walk to the highest quality lifestyle center in the entire valley. This new center will have restaurants, shops, a theater, bookstores, and much more in a setting like the great piazzas in Italy or Spain," emphasized Haiman. "Water fountains, meandering walkways, gathering spots, outdoor dining, and roving musicians will be just a stroll away from our hotel."
Remington CEO Monty Bennett emphasized that even though numerous other developments are in the works in the area, "We intend to make sure that Remington Las Montanas will be superior to other hotel products in this outstanding community for decades to come."
The $200-plus million resort will house elegant and fully-furnished and appointed condominiums featuring two master bedroom suites and expansive private terraces with outdoor fireplaces. The great room will feature a fully-retractable glass wall to allow the outside terrace in, providing breath-taking mountain and valley views. A few select penthouse and spa suites will be available.
The resort includes a 20,000 square foot full-service spa and a 65,000 square foot, hi-tech conference facility, including a special auditorium for film screenings or theatrical/live performance events. There will be separate spacious outdoor aquatic areas for family and adult recreation. A generous spectrum of luxury resort amenities and services will be available.
Groundbreaking is planned for late 2006 with opening slated for spring of 2008.
Remington currently has property, project and asset management assignments across the country for leading owners and developers.