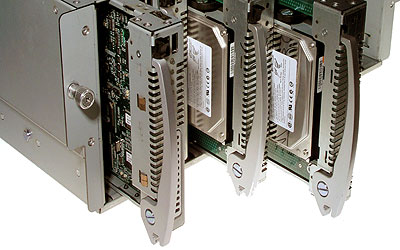 3UP Systems announced its first product family at the Server Blade Summit 2004 in San Jose, California. Designed for enterprise-class IT data centers and remote locations, 3UP Systems' CMS-4U provides reduced cost of ownership and increased availability through its converged design, advanced future-proof subsystems, decreased service support costs and smaller rack footprint.
3UP Systems' CMS-4U chassis is seven inches tall (4U) and supports 12 Intel(R) dual-Xeon(TM) servers. 3UP Systems' CMS-4U offers ultra-dense computing power in a form factor that is 30% to 40% smaller than competitive systems, with up to 240 Xeon processors per rack. The CMS-4U provides high performance and configuration flexibility in a form factor that meets the needs of data centers, remote locations, and small and medium enterprises.
3UP Systems' CMS-4U converged modular computing system is designed for the future with the most advanced degree of integration among processing, switching and storage. While most modular blade systems are server-centric with additional components sharing resources in the same chassis, 3UP Systems have taken a more integrated approach.
"3UP Systems has converged and unified management of key subsystems and brought this design philosophy to a modular system with advanced switching, greater flexibility in storage options and new features such as iSCSI diskless boot to provide greater control and significantly decreased total cost of ownership," explained Harry Quackenboss, the company's president and CEO. "We are excited about announcing our first product, and leading the industry in Xeon processors per rack unit."
With 3UP Systems solution, its in-house designed Ethernet switching and chassis management is the foundation of the architecture for the system. This is in contrast to other vendors' offerings where the Ethernet switches are sourced from OEM suppliers and configured as if they were separate boxes. 3UP's architecture is fundamentally better for the emerging world of remotely managed, dynamically reconfigured systems, where management of servers, networking and storage are converging.
3UP Systems designed its integrated redundant switching with gigabit Ethernet and 10GE, enterprise-class SNMP, and two to four times the throughput of competitive blade servers. 3UP's switch supports Layer 2, is field upgradeable to Layer 3 (Fall '04), and has the capacity to handle increased traffic as faster server blades models are introduced. 3UP Systems switch is combined with chassis management, and features integrated redundant IPMI (Intelligent Platform Management Interface) specification control buses to manage all active components of the system.
According to Wu-Fu Chen, Acorn Campus founder, and 3UP Systems' chairman, "having the combined skills of switching, servers and systems management will be important as servers, networking and storage converge. Because 3UP Systems developed the integrated Ethernet switch and server management system in-house, the company is uniquely positioned to evolve the switch and management control plane to become a true 'server backplane.'"
3UP Systems' CMS-4U features redundant subsystems and supports no single active component point of failure for high-availability operation. This reduces downtime and onsite maintenance requests that require the immediate attention of the IT staff. "3UP Systems' blade servers are the first to offer packaging, data storage and networking flexibility suitable for the rigors of military applications and environments," says Donne Smith, Chief Technology Officer, Alpha Research and Technology, a leading supplier of ruggedized systems for mobile and military computing clients.
Combining the switch with unified subsystem management provides a single control panel for complete remote management, provisioning and control of the system. This decreases the time and effort required for IT administrators to remotely reconfigure software and to isolate and diagnose problems. Additionally, all hardware FRUs are designed to be replaceable by untrained personnel without tools, eliminating the need to send out trained technicians for most system problems and minimizing on-site maintenance requirements. According to Ric Urrutia, Co-CEO of Taos, a professional IT consulting services company based in Santa Clara, California, "3UP's blade server system looks ideally suited for the emerging managed professional services industry. They are taking the concept of remote management and support to a new level."
3UP Systems' CMS-4U supports diskless blades using 3UP Systems' boot-capable iSCSI drivers for Microsoft and Linux operating systems. With 3UP Systems' netboot, servers can be booted from a drive image located on a standard iSCSI target storage system. By configuring diskless servers and 3UP netboot, administrators will have additional flexibility in dynamic provisioning and reconfiguring servers, with improved system availability.
3UP Systems CMS-4U provides an optional SLA (Service Level Agreement) Manager, which performs load balancing, content switching and traffic shaping optimized for blade server environments. This allows server pools to be dedicated to specific applications and network bandwidth to be allocated among users and applications. It also eliminates the need for expensive separate content switching and traffic shaping boxes and their respective cabling, support, spares and expense.
3UP Systems is an emerging leader in next-generation converged modular systems that deliver high availability and performance with the cost structure of conventional rack mount servers.