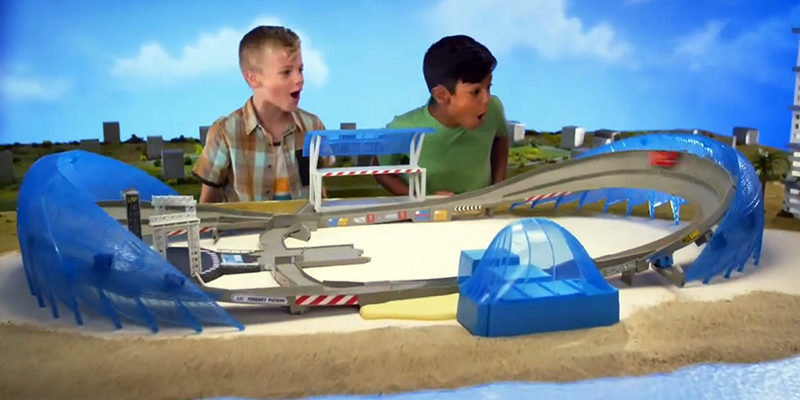 Disney Pixar Cars 3 Ultimate Florida Speedway. Lightning McQueen - Jackson Storm, take the inside track and win.
At an epic five feet long from end to end, this play set is loaded with exciting movie-inspired details. It features a motorized booster, themed play areas, a raised track for increased velocity, and a vehicle. Other characters cheer from the stands as their favorite racers brave hairpin turns at high velocity. Flags pop up signaling a victory lap.
Disney/Pixar Cars movies entertain, excite and warm fans' hearts. Their compelling, comedy-adventure stories focus on teamwork, friendship and courage, and inspire audiences to go for it. The latest feature, Cars 3, introduces Next Gen racers, thrilling adventures, and explores racing's roots with Lightning McQueen.
Cars animated films are bold and visually exciting. Each product in our line is carefully crafted to evoke the dynamic personality, style and energy seen on screen - from Radiator Springs to the world's most thrilling competitions. Just as Lightning McQueen must be innovative to win each successive race, our toys evolve to offer kids the best play experience possible. This track's massive size, intricate racetrack details and side by side racing empowers fans to recreate the champ's make or break final act, where he must seal his big comeback.
Our wide range of Cars 3 products will delight fans of all ages. We have nearly 100 new die-cast vehicles, a Smart Steer Lightning McQueen vehicle with interactive wristband controls, the Thunder Hollow Speedway featuring demo derby play, a Tech Touch Lightning McQueen that puts kids in the driver's seat to create their own race and Mattel's biggest Cars trackset ever, this Ultimate Florida Speedway, measuring over 5 feet long.
Based on the thrilling, climatic race in Disney/Pixar Cars 3. Set connects to the Florida Speedway and the Spiral Garage sets for more Cars 3 action. Each set sold separately, subject to availability. Biggest, raised track set in Cars' toys history that evokes the dynamic personality, style and energy seen on screen. A motorized booster keeps cars speeding in continuous play. Diverter allows cars to switch lanes. Includes a 1:55 scale Lightning McQueen vehicle to start the action right away. Race your hardest and make it to the finish line first. This Ultimate Florida Speedway also connects to the Florida Speedway and the Spiral Garage sets to keep the Cars 3 action going and going.