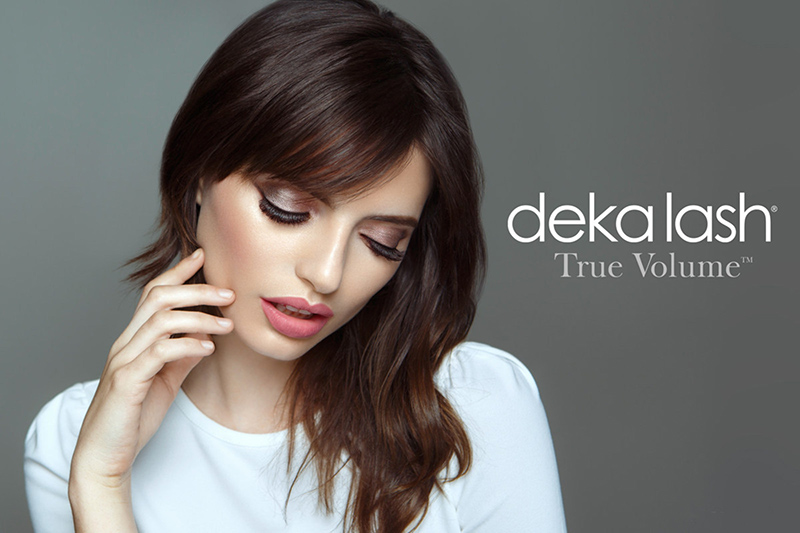 On October 13, 2017, Deka Lash announced the launch of their new True Volume service. True Volume (real 3D volume also known as Russian volume) can be applied in about an hour with a significant cost savings over traditional volume applications.
True Volume, a product and process together, allows for the application of real traditional volume in a shorter amount of time at a lower cost to the consumer. True Volume lashes are not machine made like other solutions marketed as volume like Tab Lashes, Cluster Lashes, or Pre-made Lightweight Fans, which can damage natural lashes if attached to multiple lashes at the same time. True Volume fans are handmade and applied to individual lashes, which is safer for the health of the lash line.
True Volume allows for a level of customization that pre-made fans do not. Handmade 3D fans are customized to the client's natural lashes and curl producing a more consistent and desired result. True Volume also affords clients the option to add volume to a classic lash service for a unique hybrid look."
Traditionally, applying volume lashes requires many hours of service and training to master. True Volume allows a lash artist to master volume applications in the same amount of time it takes them to master classic lashes.
Deka Lash provides semi-permanent eyelash extensions featuring a unique in-studio experience, online booking and extended hours including weekend appointments. Highly trained staff of licensed estheticians take their time to ensure quality applications, allowing customers to feel relaxed, not rushed. Deka Lash also offers a proprietary product line with products designed to improve the health and growth of natural lashes.
Deka Lash was founded in 2011 by Jennifer and Michael Blair with the vision to create everyday confidence through beautiful lashes. Deka Lash Studios apply semi-permanent custom eyelash extensions to the client's' own lashes, providing a variety of looks, styles, and eyelash cosmetics. The company began franchising in 2016 and has awarded a hundred franchise licenses in sixteen states.