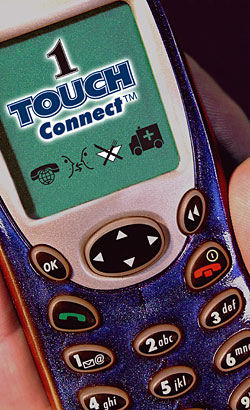 An innovative cell phone service offers live interpretation, concierge assistance, and help services with one touch of a keypad. 1TouchConnect is the first international telecommunications provider to combine convenient local and international calling with traveler assistance.
"We created 1TouchConnect to bring added comfort, convenience and security to vacationers and businesspeople who are once again traveling in record-breaking numbers," says Claude Buchert of TeleplusGroup. "We're an international company so we understand the traveler's dream of communicating with anyone anywhere. We want our customers to think of 1TouchConnect as their friend in a foreign country."
The international rollout begins in Spring 2005 with cell phone distribution in the United States and Japan, and round-the-clock live-operator translation, concierge and help services in the United States in English, Japanese, Spanish, French, and 116 other languages. Distribution and service in Europe will begin in July 2005.
Travelers with a major credit card can get fully charged 1TouchConnect cell phones quickly from a rapidly growing international distribution network. Inbound travelers to the USA can get phones at hotels, convention centers, airport concessions, rental-car offices and tourist attractions. Outbound travelers in Japan can obtain phones from travel agents and tour operators when booking travel. They may also order a phone and service package online and have it delivered to their home or office, or they can pick it up at an airport or destination hotel.
1TouchConnect customers can make calls and begin using the live-operator assistance services within minutes of signing up. Unlike other travel cell phone providers, 1TouchConnect requires no contracts, no long-term commitments, no deposit and no phone rental fees. Customers pay only for service minutes, with prepaid airtime packages in the United States starting at $49. They can touch a designated key to easily recharge their airtime minutes via credit card, even after their initial airtime package runs out.
Travelers on trips shorter than thirty days simply return their phones using a complimentary pre-paid mailer. Customers taking longer trips must purchase the phone for a modest fee of $75, much less than competing services that charge $400 or more for rental or replacement of a lost phone. For added convenience, frequent travelers have the option of purchasing the phone.
1TouchConnect gives international travelers 24-hour access to live operators who speak their language and can quickly deliver assistance, interpretation services, and concierge services.