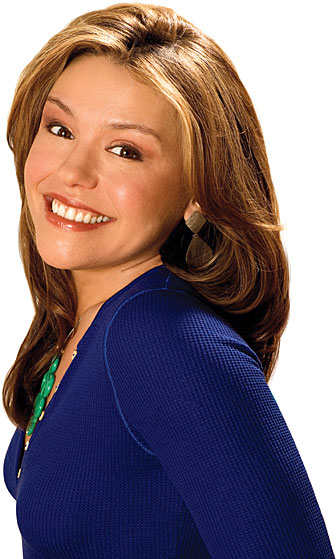 Rachael Ray will host a daily, one-hour, talk show beginning Fall 2006.
"People know me for my love of food, but I have so much more I want to share," said Rachael Ray. "Our show's going to be all about taking a bigger bite out of life. I want people to see themselves in this show, because life is full of messes and successes, and getting there is half the fun."
Dubbed by Newsweek as "the most down-to-earth TV star on the planet," and by Entertainment Weekly as "the next domestic goddess," Rachael Ray is already a familiar face to millions of TV viewers as host of the Scripps-owned Food Network's popular series, 30-Minute Meals, $40 a Day, Inside Dish, and Tasty Travels. She's also the best-selling author of ten cookbooks and her new, monthly magazine, Every Day with Rachael Ray, debuts next month.
"Rachael Ray is a terrific talent, whose positive energy and dynamic personality jump right off the television screen," remarked King World Productions CEO Roger King. "She's already made a mark for herself with a legion of fans, and her star is going to keep rising for many years to come. And, what a thrill it is to partner with Oprah on producing daytime's next big hit. I can't wait to start selling this exciting, new, quality show."
"From the moment I had Rachael on my show earlier this year, I knew she had it," said Oprah Winfrey. "She has that connection with her audience that most people only achieve one-on-one."
"We're excited about working with Rachael and King World to launch what we believe will be another syndication success," added Harpo Productions President Tim Bennett.
"You know the real deal when you see it, and that's exactly what Rachael Ray is," declared King World Creative Affairs President Terry Wood. "We already know Rachael can make life easier in the kitchen, and now she'll do it for people in all other aspects of their lives. Rachael has a huge connection with the audience, and her comfortable, relatable style makes her perfect for daytime television."
The new series, to be based in New York City, will be produced by King World Productions in association with Harpo Productions and Scripps Networks and distributed by King World. Ray will continue to appear on the Food Network.
"We are proud to team up with King World and Harpo in launching Rachael's new, daily, talk show," said Scripps Networks President John Lansing. "Her boundless enthusiasm and irresistible personality, coupled with a unique ability to celebrate the enjoyment of life, have helped grow the Food Network to all-time high ratings. Now, adding broadcast syndication to her presence on our network, along with books, magazines and beyond, can only mean that she's poised to become America's next great lifestyle authority."
Rachael Ray got her start in television doing a weekly segment, 30-Minute Meals for the evening news. Her TV work grew to include a series of lifestyle and travel segments following the theme of, "You do not have to be wealthy to lead a rich life." The Food Network picked up 30-Minute Meals in 2001 after seeing Rachael on The Today Show.
Rachael Ray is represented by the William Morris Agency.
According to Rachael Ray, she grew up in food. "My first vivid memory is watching mom in a restaurant kitchen. She was flipping something with a spatula. I tried to copy her and ended up grilling my right thumb! I was 3 or 4," says Rachael, who insists that cooking is a way of life she was simply born into. "Everyone on both sides of my family cooks." Her maternal grandfather grew and cooked everything that his family of 12 needed for sustenance, and her dad's family was steeped in the food-rich traditions of Louisiana. The Ray family owned several restaurants on Cape Cod, Massachusetts. Eventually the family relocated to New York, where her mother went to work as the food supervisor for a chain of restaurants upstate. "I was surrounded by all different styles of cooking, and worked in the food service industry in just about every capacity you can imagine."
Eventually, she landed at Macy's Marketplace in New York, first at the candy counter and, then, as the manager of the Fresh Foods Department. She credits her two years at Macy's for giving her an education in gourmet foods. After Macy's, Rachael helped open Agata & Valentina, the prestigious New York gourmet marketplace, where she was the store manager and buyer.
Upstate, Rachael managed pubs and restaurants at the famed Sagamore Resort on Lake George and was then recruited by Cowan & Lobel, a large gourmet market in Albany, to be their food buyer. Eventually, she turned the job into a dual position as food buyer and chef, jobs that she loved. As a way to increase grocery sales during the holidays, Rachael began a series of cooking classes, which quickly became a happening. The cooking course promising to teach thirty "30-Minute Mediterranean Meals" became so popular that the local media sent a feature reporter to cover the phenomenon. The following week, WRGB-TV/CBS Albany-Schenectady approached Rachael about doing a weekly segment, 30-Minute Meals, for the evening news. Nominated for two regional Emmy's the first year, the show was a major success. A companion cookbook sold 10,000 copies locally during the holidays.
Rachael's television work grew to include a series of lifestyle and travel segments following the same theme: "You do not have to be wealthy to live a rich life." Today, her work in food and travel continues with her popular shows on the Food Network: 30-Minute Meals, $40 A Day and Inside Dish. Rachael's newest endeavor on Food Network is Tasty Travels, which debuted on Friday, August 26th and airs every Friday at 9:30 pm. Rachael will continue globe-hopping in this series (as she does in the popular $40 A Day) and delve into more than just great eats and eateries during her visit. She'll show viewers the best place to buy funky dishes, where to find oysters at 2am or where to get the best steak in town.
Her successful series of ten cookbooks, all based on the "30-Minute Meal" concept, include 30-Minute Meals, 30-Minute Meals 2, 30-Minute Meals: Get Togethers, Comfort Foods, Veggie Meals, The Open House Cookbook and her Fall 2004 introductions: Cooking 'Round The Clock Rachael Ray 30-Minute Meals, Cooking Rocks! Rachael Ray 30-Minute Meals for Kids and Rachael Ray Best Eats In Town On $40 A Day. During the 2004 holiday season, Ray had five books on the New York Times Best-Sellers List at once. The new Rachael Ray 30-Minute Get Real Meals was launched in March and her eleventh cookbook, launching in November, is Rachael Ray 365: No Repeats A Year of Deliciously Different Dinners, which provides a brand-new 30-minute dinner every night for an entire year.
Taking the can-do spirit of her television shows and books, Rachael is launching a lifestyle magazine bearing her name and vision with The Reader's Digest Association, Inc., Every Day with Rachael Ray. With great food at its heart, the new full-size glossy magazine is about so much more than food and will invite people to get the most out of life every day. Mirroring Rachael's high energy and friendly manner, the magazine will offer smart and easy recipes for an array of delicious foods, as well as practical advice on food destinations and entertaining. She will also take readers around the country to meet people who love food -- from top celebrities to authentic artisans to great home cooks.