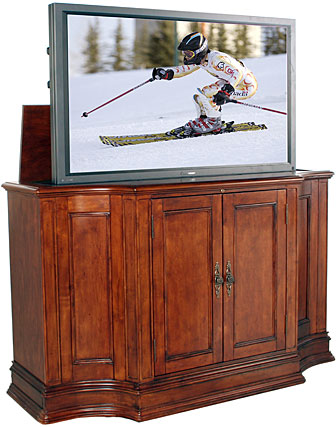 Zobo's Selwyn Furniture Collection includes a plasma pop-up TV cabinet and matching end table for audio/video components. The cabinet's sculpted front and slim profile is a first in a growing market.
At only 20 inches deep and 36 inches tall, the pop-up cabinet is the smallest unit of its type on the market. The tv furniture houses flat-panel televisions up to 50 inches wide.
A lift mechanism with a rack-and-pinion design utilizes four ultra-quiet motors and eight gears for industry-leading reliability. The lift automatically raises and lowers when the television turns on and off. A safety pressure sensor detects obstructions in the lift's path and causes it to reverse direction if there is a problem.
A built-in infrared repeating system enables any television remote control to power on the television even when it is down inside the pop-up TV cabinet. The unit also ships with a radio-frequency remote control for manually raising and lowering the lift.
While the TV cabinet features DVD/VHS/CD storage in the front, the matching end table provides housing for audio/video components such as DVD players, audio receivers, and digital satellite/cable boxes.
The Selwyn End Table is designed with an adjustable base that gives homeowners the flexibility to route power and audio/video cables out the sides or back. The end table is also constructed with hidden vents to ensure the enclosed electronics do not overheat.
The flatscreen TV pop-up cabinet and the matching end table come in two durable finishes: Pecan and Black Walnut. Both finishes feature antiquing with subtle distressing.