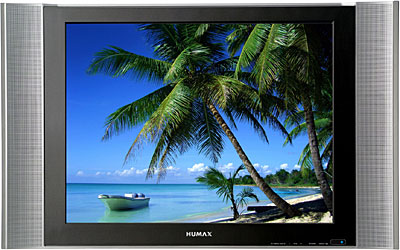 Humax is developing a line of LCD TVs that feature integrated DirecTV Tuners. The new TVs do not require separate set-top box tuners.
Targeted primarily at second room installations, these all-in-one products will allow consumers a single-cable, space-saving installation for receiving DirecTV services. The ultra-thin and elegant design of the Humax LCD TVs with integrated DirecTV Tuners make them ideal for placement on a wall, counter top or entertainment center. In addition to integrating Humax's high-quality DirecTV receiver technology, these sets are equipped with a variety of inputs and outputs for complete connectivity with today's state-of-the-art home entertainment systems.
The 20-inch model is 4:3 and features a modem and USB port, component video input, two composite video inputs, and an audio and video output.
The 32-inch model, which is 16:9, is unlike other televisions in the market because it is based on interchangeable modules: Humax has opted to separate the display technologies from the tuner and processing technologies allowing for development of various TV modules that can support different tuning features and options.
The 32-inch model will ship with a DirecTV MPEG4 TV module consisting of a DirecTV HD Tuner, ATSC tuner, component video, composite video, S-video and HDMI inputs. Humax plans on developing additional modules to support future DirecTV hardware.
"The Humax LCD TVs with integrated DirecTV Tuners make it possible for a DirecTV customer to simply connect a coaxial cable for a true plug-and-play experience, there is no need for external wiring or connections associated with an external set-top box," said Tony Goncalves of Humax. "And with DirecTV's high-quality digital signal, the picture is second to none."
"The Humax LCD TVs with DirecTV offers the complete DirecTV experience from a single remote control without interconnecting wires, making it easy to use and ideal for all areas of the home," said Romulo Pontual of DirecTV. "The compactness and simple installation of this integrated TV is the perfect way to bring DirecTV to areas like the bedroom or home office where space is at a premium and a simple connection is highly desirable."