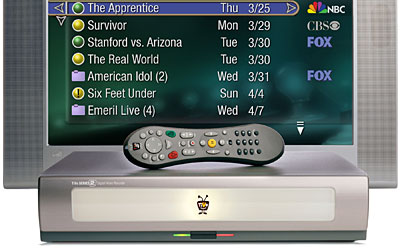 TiVo today announced a series of coordinated initiatives that will officially launch on August 11, 2004 to support the company's growth strategy. These initiatives include a new low price of $99 after rebate, a newly designed TiVo box, and expansion of the TiVo retail footprint to some of the largest retailers in the country. These moves will be supported by a nationwide advertising campaign that kicked off this week, and an innovative rewards program to promote new subscriber referrals. Collectively, the elements of this growth initiative are expected to fuel the most aggressive subscriber growth period in the company's history.
"Breaking the $100 threshold and expanding our distribution footprint now puts TiVo within reach of many more consumers," Brodie Keast, EVP and general manager of the TiVo service. "The advertising campaign, tivo.com, and the unique rewards program will be the primary channels to communicate to existing and potential new customers everything TiVo has to offer."
These initiatives, which kick-off on August 11, bring to fruition a plan TiVo unveiled in March, when it explained to investors and analysts that the company would invest in subscription acquisition activities focused on accelerating growth.
The new rebate brings the introductory price on the TiVo box to just $99 for the 40-hour model. Consumers will receive a $100 cash back mail-in rebate on TiVo box purchases between August 11 and September 30, with service activation before October 31. The rebate also lowers pricing on all other TiVo boxes. The 80-hour model will now cost just $199 and the 140-hour only $299. Other TiVo products are eligible including models manufactured by Toshiba, Pioneer and Humax.
TiVo unveiled a new box design, which was developed to reduce manufacturing costs and lower prices. The new boxes feature a refreshed, updated user interface, along with the easy-to-use and exclusive features of the TiVo service.
TiVo is also announcing expanded retail distribution in national retail stores across the country. In the coming weeks, TiVo DVRs will be available nationwide on retail shelves in Sam's Club, CompUSA, Target.com, Fry's Electronics and Costco in key retail markets and Costco.com. These retailers offer increased retail availability for TiVo in addition to long standing TiVo retail partners like Amazon.com, Best Buy, Circuit City, Dell.com and Good Guys.
"TiVo is committed to offering consumers the best home entertainment experience by providing them with unmatched service features that are so easy, everyone in the home will use it," said Susan Cashen, vice president, marketing. "Combined with our $99 offer and new retail partners, we're making TiVo boxes accessible to many more consumers."
TiVo Kicks Off National Advertising Campaign to Promote $99 Offer
To help support its growth initiative TiVo also launched a nationwide print advertising campaign to promote the new price-point for TiVo boxes.
The campaign, which debuts this week and runs through December, will appear in such magazines as Architectural Digest, Bon Appetit, Conde Nast Traveler, Cooking Light, Entertainment Weekly, Esquire, Golf Digest, Men's Health, Newsweek, The New Yorker, Parents Magazine, People, Real Simple, Rolling Stone, Sport Illustrated, Sync, This Old House, Vanity Fair, The Wall Street Journal and Wired as well as with full page ads in USA Today. The print ads highlight the new pricing and the value of the TiVo service for consumers with busy lives.
The campaign targets active consumers with a wide range of lifestyle interests and passions, using illustrations, and multi-page ads to establish the TiVo service as an invaluable tool for consumers to connect with the entertainment they care about. The campaign will also feature radio advertising in key regional markets.
"The TiVo target is the opposite of couch potatoes -- they are very active in their lives and passionate about their interests, be it work, parenting, cooking, sports, or travel," explained Cashen. "Our media placement introduces the story of the TiVo service in outlets that focus on their particular interests, while our creative communicates the relevance of the TiVo service in context to their passions. We believe this approach will be a very effective way of packaging the TiVo box and our new $99 offer to drive consumers to buy."
The ads were created by Grant, Scott & Hurley, an independent agency in San Francisco, whose clients include Apple Computer, California Pizza Kitchen and CBS Television. Media placement was managed by Carat, the nation's largest independent media agency network.
TiVo also kicked off today a unique rewards program that is designed to encourage its already loyal and passionate subscriber base to refer new subscribers. Existing TiVo customers will earn points whenever they refer friends and family who purchase a TiVo box and activate the service. The all new TiVo Rewards program is one of the few that allow members to earn points without purchasing any goods or services.
TiVo also announced it has partnered with Juniper Bank to offer a TiVo branded Platinum MasterCard with no annual fee and a 0% Introductory APR.
TiVo Points earned through referrals or purchases on the new card can be redeemed for TiVo service upgrades, merchandise, accessories, TiVo boxes, an Apple iPod, Nikon digital cameras, Bose QuietComfort headphones and more.
TiVo subscribers can earn points both for referrals and for use of the new TiVo Platinum MasterCard. TiVo subscribers will earn one TiVo Point for every $1 spent. For a limited time, cardholders can earn double TiVo Rewards points -- up to 10,000 points -- and up to 5,000 points with a balance transfer.
TiVo is advancing the concept of the digital living room, a center for sharing and experiencing television, music, photos and other content.