Teoma has set itself the ambitious goal of beating Google. Long marked Beta, the search engine has now removed the beta label and launched a new look.
Teoma search technology has been hailed in recent months by industry experts as "the next big thing in search engines" and described as "running rings around" other search engines. Teoma, whose name derives from the Gaelic word for "expert," uses highly advanced algorithms to process and organize the most relevant and authoritative Web sites in real time.
Teoma's lean, clean look (below) is reminiscent of Google's.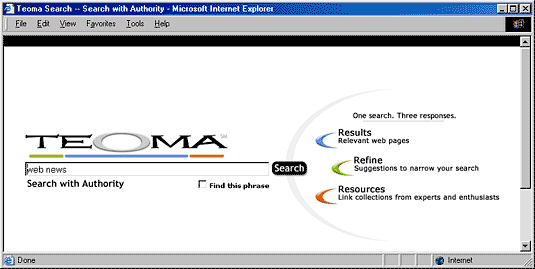 Teoma's search results (below) are divided into four quadrants. In the top left, Teoma offers sponsored links, when they apply to a search, through an arrangment with Overture (the top two bidded terms), and search results below that. On the top right, Teoma offers alternate search suggestions, with links to expert pages below that.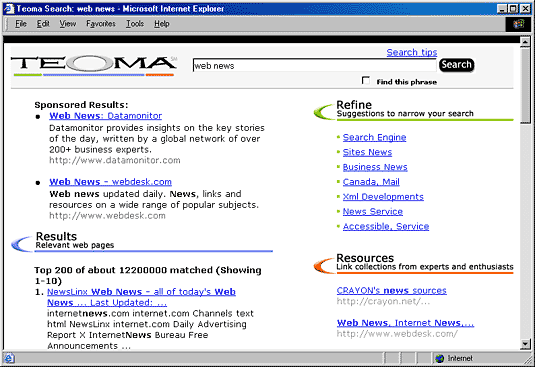 Teoma goes beyond the traditional methods of page ranking such as text analysis, general popularity and status. In addition to these methods, Teoma adds the crucial step of examining the number of same subject pages that reference a site to determine its level of authority in addition to relevance, which the company refers to as Subject-Specific Popularity. In addition to providing authoritative Web results, Teoma.com is capable of employing proprietary dynamic clustering process and expert identification analysis to categorize search results by sub-topic as well as identify lists of expert resources within a particular subject. Ask Jeeves plans to integrate these additional elements of the Teoma search technology into Ask.com later this year.
Teoma search technology has significantly more functionality and relevance than competitive search technologies due to its unique approach for dividing the Web into natural communities, analyzing topic-specific Web content, and ranking a page based on the number of same subject pages that reference it. Teoma search technology began in 1998 as a research project by scientists at Rutgers University, and was acquired by Ask Jeeves, Inc., in September 2001.