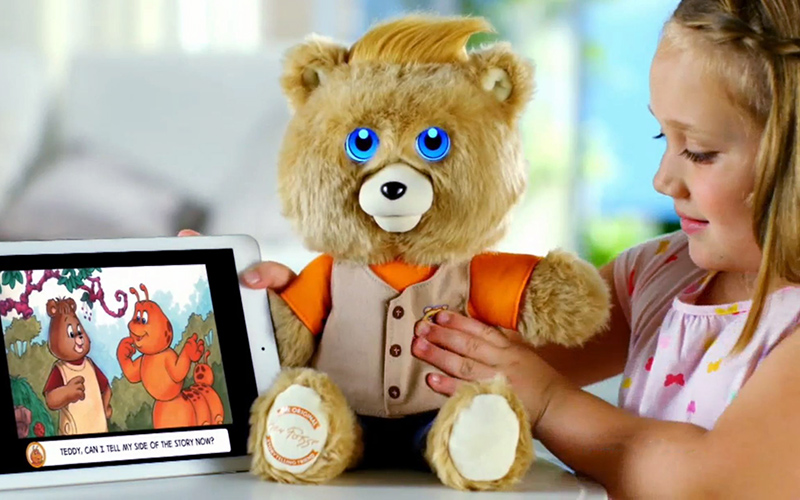 Can you and I be friends? Your friend is what I'd like to be. Read and sing along. Tell us another story. The new 14-inch Teddy Ruxpin animatronic bear has lots of interactive technologies and features. Connects via Bluetooth to read along anytime, anywhere. To make storytime come to life, Teddy Ruxpin features color, electronic LCD eyes that react in fun and surprising ways as he tells tales and sings songs. There are more than forty full-color eye expressions and animations, including laughing, loving, curious, cold, and surprised.
Teddy Ruxpin's animatronic mouth with Talk Sync Technology moves whenever he speaks or sings. Pre-readers and early readers can follow along with the story to develop their reading skills. Three original stories already unlocked with purchase: The Airship, All About Bears, and Captured by Mudblups–so reading fun can start in a snap. There are seven additional books available to purchase and unlock in the free app.
Children can start and pause stories, or move on to the next exciting adventure with the easy-to-use touch sensors in each of Teddy Ruxpin's paws. Want to fast forward through songs? Just touch the Teddy Ruxpin logo on his vest. It's easy–and puts the power of storytime in children's hands.
Teddy Ruxpin is also the ideal travel companion for everything from road trips to visits with grandma. You don't need a WiFi connection to access your unlocked stories and songs, so he is the perfect pal for storytime fun–anytime, anywhere.
Every bit as cuddly as he is entertaining, Teddy Ruxpin is the perfect companion to snuggle, and hug. He's soft enough for nighttime and naptime, whether it's in a bedroom or on the go.
Features
Bluetooth-ready, enabling Teddy to quickly sync with the free app on any compatible smart device.
Color LCD animated eyes.
Animatronic mouth that syncs to Teddy's speech.
Touch sensor story control.
Soft and cuddly.
Includes 3 pre-loaded stories and 7 sing-along songs totalling over 45 minutes of content.
Free app to read along and unlock/purchase up to 7 additional stories.
Modes
To support young kids as their reading skills grow and develop, there are two convenient and fun ways to play.
Mode #1: Use the free Teddy Ruxpin app to help new readers advance their reading abilities. They can view digital books to read along with Teddy Ruxpin on any enabled device.
Mode #2: When a device isn't available, kids can enjoy listening to Teddy Ruxpin's stories without the app. No WiFi required, so he can read and sing to you anytime, anywhere.