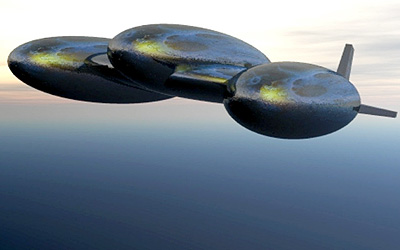 GlobeTel Communications will purchase Sanswire Technologies by the end of March 2004.
Sanswire is developing a National Wireless Broadband Network utilizing high-altitude airships called Stratellites that will be used to provide wireless voice, video, and data services. A Stratellite is similar to a satellite, but is stationed in the stratosphere rather than in orbit. At an altitude of only 13 miles, each Stratellite will have clear line-of-site to an entire major metropolitan area. The Stratellite will allow subscribers to easily communicate in both directions using readily available wireless devices.
The Stratellites will be held stationary in the stratosphere and remotely controlled from tracking stations on the ground. Each Stratellite is designed to stay in one location for up to 12 months, at which time it would be replaced by a duplicate Stratellite, allowing the original airship to be brought back to earth for servicing and communication upgrades. The replacement would be a seamless exchange preventing outages to subscribers.
Each Stratellite will be over two hundred feet in diameter, have a payload capacity of thousands of pounds and will be powered by a series of solar powered hybrid electric motors and other regenerative fuel cell technologies. In addition to Sanswire's National Wireless Broadband Network, proposed telecommunications uses include cellular, 3G/4G mobile, MMDS, paging, fixed wireless telephony, HDTV and others.
Michael K. Molen, CEO of Sanswire Technologies stated, "There has never been a greater need for a National Wireless Broadband Network. The acceptance of wireless hot spots has proven that the demand is there for high-speed wireless Internet access. When completed, our National Wireless Broadband Network will make the entire country a hot spot and provide voice (telephone), video (television), and data (internet) to our subscribers whenever and wherever they choose. We are excited about the acquisition by GlobeTel. It solves the telecom element of our bundled package and increases our access to the international marketplace."
Timothy Huff, CEO of GlobeTel stated, "We are looking forward to the beta test demonstration of the Stratellite in Atlanta and the completion of the research and development work that will be gathered from the test that will aid in the commercialization of the Stratellite. Then, we will be able to begin selling Stratellites and the various services they will provide to our customers. We expect that Sanswire's technology will open up new and exciting doors for us. This will allow us to deploy a complete IP network in a country virtually overnight and greatly speed up the deployment of our Super Hub technology by solving the last mile issue that most countries face. Deploying Stratellites over the Atlantic corridor traveled by commercial airliners to provide uninterrupted phone and Internet service is one of many services that can be offered. This technology will change the face of telecommunications by making the need for expensive cabling and last mile solutions obsolete. The coupling of our bundled services and Sanswire's deployment capabilities makes this a very potent combination."