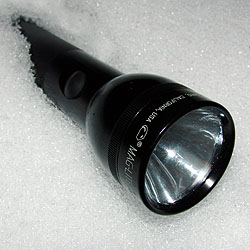 Pennsylvania official David M. Sanko today reminded Pennsylvanians to prepare for the upcoming storm and the possibility of flooding afterwards.
"According to the National Weather Service, we are expecting a significant amount of precipitation over the next two days," Sanko said. "With all of the snow on the ground and rain in the forecast, there is the potential of flooding. We're hoping that the snow melts slowly, but as history has shown us, warming temperatures and the potential for more rain in the next few days can lead to disaster."
Street flooding is a major concern, according to Sanko. If storm drains are clogged or covered with snow/ice, this will cause water to backup and produce water "ponding" on roads, creating dangerous driving conditions.
"As the snow begins to melt, we recommend residents remove it from flat roofs," Sanko said. "The weight of the snow and any additional precipitation can collapse these roofs."
Director Sanko said residents should be aware of any flood warning alerts from the National Weather Service. A flood watch means that flooding may occur and that people should keep alert and watch rivers and streams. If they rise - don't wait; move to high ground quickly. A flood warning means that there is actual flooding occurring or is imminent.
"It's important to plan and practice an evacuation route in case of flooding," Sanko said. "This plan should include information on the safest routes to shelters. People living in flash flood areas should have several routes."
Families should develop a communication plan in case they are separated during floods or flash floods, a real possibility during the day when adults are at work and children are at school. Families should also have a plan for getting back together.
Sanko recommended having disaster supplies on hand that include:
Flashlights
Portable, battery-operated radio
Extra batteries for all electronics
First aid kit
Emergency food and water
Non-electric can opener
Essential medicines
Cash and credit cards
Warm clothes, blankets and sturdy shoes
"Homeowners and businesses also need to consider flood insurance since standard homeowner and renter insurance policies do not cover flood damage," Sanko said. "We recommend that all property owners purchase and keep flood insurance because it is the best means of recovery from flood damage."
Flood insurance can be purchased at anytime, but it is critical to note a 30-day waiting period after an application is filed and the premium is paid before the policy becomes effective," Sanko said.
Pennsylvania residents can purchase flood insurance from local insurance agencies. The federal government guarantees the policies through the National Flood Insurance Program (NFIP), established in 1968 by Congress.